Dizzy Ditzy Doo!
Member Since 05 Apr 2012
Offline
Last Active Feb 27 2013 11:39 PM
"...Doctors note...Patient Dizzy received a steroid shot to the hip to swell her tonsils, prescribed 500mg of antibiotics, document for lab work to be done right away and ha...
Updated 10 Sep · 13 comments
About Me
Hehe...I can see you...but you can't see...
OHH...
Hello.
Haiiiiiiiiiiiiiiiiiiiiiiiiii

...yea....
You found me. ;3
What can I say, you're on my page, I suppose you want to know a little bit about me eh?
Well..you'll have to find me on this page first!!!
*Scurries on downward*
Hehe...Ohh...
Okies! FINE.
Curse my text hoofprints...
I'm Dizzy Leeane Rage, Pegasister to the community of Bronies here on the Forums (Whom I care and cherish a lot) Lol, umm...I'm quite older then most (24) , but have been watching the MLP series since being a filly.
I do alot of things, draw, craft, and stuff relating to using my hooves. I have a tendency to be very shy at first, and timid at times, and I do apologize in advance for that. However, I've made a bunch of very cool friends here and adore the community as if it were an extension of my family in real life!
I'm very pleased to meet you in advance!
Check out some of the art here, including mine sometime!...
I mean...if you want to ofcourse...
BTW, Huge thanks to Speedy Transition for both the wall paper, and his rendition of my Violet Spiral OC made insane. ;3
And big thank you to NeverNeverland for the following delicious sigbars!

A sincere thank you to talented artist Ladyee Kazee and Mr Meeps for this awesome avatar!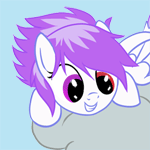 Nibbling by Speedy Transition
ApocalypticChaos's rendition of my OC Violet Spiral. Thanks Chaos!
Doctor Violet by Speedy Transition
Friendship by Speedy Transition
...reserved and quietly, I exit right, the time for me to return will be another night.
---
Community Stats
Group

Members

Active Posts

601

Profile Views

6,827

Time Online

40d 8h 50m 24s

Member Title

Bird

Age

25 years old

Birthday

February 21, 1988

Gender

Female

Location

Texas

Interests

Hiya, as I mentioned before, I take a profound interest in all sorts of activities and hobbies. Will compile list here later.
MLP Forums
Opt-in to site ads?

Yes, I want to support the site!
Viewing Profile: Dizzy Ditzy Doo!