Artemis
Member Since 07 Jul 2012
Offline
Last Active Private
About Me
Whether you've made you're way here randomly or because we're already in some way acquainted, welcome. The tl;dr version of the disjointed mess to follow is that I'm a 24 year-old brony who drinks way too much coffee, likes to read, and doesn't get enough sleep. Drop me a line if you're so inclined, or hit me up on Steam. I'm pretty laid-back.
I'm also one of the global moderators, so shoot me any questions or concerns you may have if you find yourself in need of some assistance.
How I got into MLP:
My story is similar to many. One day I was goofing off as usual on a forum when somebody bursts in and raves (quite coherently, I should add) about My Little Pony: Friendship is Magic. Not at all bewildered by this, I decide to check out the first episode the following night, which was Saturday, May 20
th
, 2011. I powered all the way through the first season in one sitting. My every computational device has been sporting a pony wallpaper ever since. Twilight is best pony, by the way.
Why I like it:
The sincerity, the comedy, the cheerfulness, the relevant messages/lessons, etc. I think everyone needs something like that in their lives, in one format or another. Before MLP, I was a very insecure, bitter, and standoffish individual. Thanks to the show and the fanbase I'm a new man.
How I got here:
Last year (2012) I went to BronyCon. Saturday evening when I got back to my hotel room I decided to post all the pictures I had taken so far to the forum that I frequented the most. Everyone knew me there, I knew everyone, but it was a pretty stale place and I didn't like the direction it was going. It also didn't help that they weren't a pony forum; they simply had a board dedicated to MLP in which I spent most of my time. So that evening, in my hotel, I perused Google for a new pony-centric forum. MLP Forums was the first result. After checking it out I decided I wanted in on some of that and made a note to join later when I was less preoccupied. The following Saturday is when I did. No regrets.
As of this writing I've been of member of this community for almost nine months. Certainly doesn't feel like it's been that long.
Miscellaneous Interests:
I'm a huge Trekkie, and my favorite series is the original. The Next Generation and Voyager are neck-and-neck for second place. In my opinion Voyager is a good blend of TOS and TNG. It combines the focus on humanity's nature and general nerdiness of TNG with the action and camaraderie of TOS.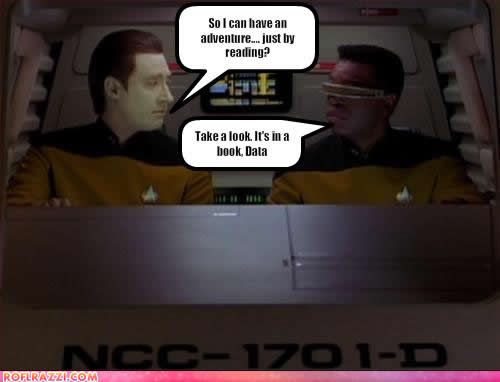 Ever heard of The Legend of Drizzt? Most of my past avatars were taken from cover art from the books in the Drizzt saga. R.A. Salvatore can write a fight scene unlike anyone else. Scenes more captivating than I've watched in any movie with masterful choreography. If you like martial fantasy, you should really check this out. The real premise of the series is Drizzt, the protagonist, in his search for himself and his place in the world. He's a drow, a dark elf, and their society is renowned the realms over for its unparalleled cruelty. Being one of the few who could never shake that instinct that everything about their way of life was evil, he fled the expansive caverns known as the Underdark in which they and several other wicked, sentient species made their home. After coming to the surface world, he finds life almost as difficult when none of the "goodly" races can see past his heritage, with many people fleeing or trying to kill him on the spot. Over the course of a century he manages to carve out (with good deeds and his unsurpassed swordsmanship) a place for himself and make several friends. These books don't always end on a bright note; sometimes their endings are bittersweet, favoring the side of bitter. Even so, they'll give you many exciting adventures and make you think.
I also love Starcraft books. Lots of Starcraft fans play the games competitively; I play it for the plot as well as the action. Those who have only played the games are missing out on a lot.
The Dark Templar saga
,
Starcraft: Ghost - Nova
, and
I, Mengsk
all relevantly expand on lore revealed through the game without retconning or other foul means.
Weapons: I like them. They all have their proper situational uses, and they all have the potential for being a work of art and wonder of engineering as much as a tool for defense. I own two swords, a longbow, a bat'leth (it's a type of Klingon sword), a "hand-crossbow," a semi-automatic pistol, two revolvers, and four rifles. I've been meaning to make another post in
My Little Armory
regarding one of my rifles, but
I've been too lazy
I just haven't had the time. I'll get that done soon. In the meantime, please peruse the thread and share any firearms that you may own.
I think that about covers it. This concludes my wall of text. Definitely not the most useful or most efficiently formatted bit of information. Thanks if you've stuck around this long, and congratulations as well. I imagine I'll end up completely rewriting this again someday.
Oh, and Linux is best operating system.
---
Community Stats
Group

Moderators

Active Posts

1,413

Profile Views

10,613

Time Online

128d 2h 26m 49s

Member Title

(Neutral Good)

Age

24 years old

Birthday

September 10, 1988

Gender

Male

Location

Mechanicsville, Virginia

Personal Motto

Challenge your preconceptions, or they will challenge you.
MLP Forums
Opt-in to site ads?

Yes, I want to support the site!

Favorite Forum Section

Everfree Forest
My Little Pony
Best Pony

Twilight Sparkle

Best Pony Race

Unicorn
Viewing Profile: Artemis