The Beach Boys: Surfer Girl Album Review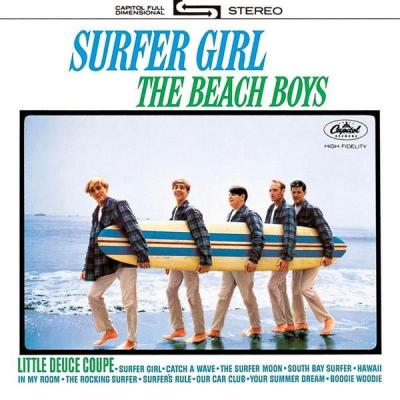 Surfer Girl Album Review
"Make it real, your summer dream..."
Welcome back! This time, I'm covering The Beach Boys' third album, Surfer Girl!
HISTORY:
Surfer Girl was released in 1963, the second of three Beach Boys albums released that year. All originals were written by Brian Wilson, Mike Love, and Gary Usher, and the album is the first credited as "produced by Brian Wilson". (On previous albums, the production was credited to The Beach Boys.)
GENERAL OVERVIEW:
Things start getting good here. Brian's talent really starts to shine through, and the Boys' vocals sound even better than before. There's a couple clunkers, but overall it's a good and consistent album.
TRACK BY TRACK BREAKDOWN:
Surfer Girl - Stunning. The classic Beach Boy harmonies sound they best they have to date, and couple that with a pretty melody, and you've got a dang good song, and a deserved classic. 5/5
Catch A Wave - A decent song, and showcases early use of instruments (harp) outside normal "rock" ones. Though, apparently, Mike had a cold when he recorded his lead, and it shows. He sounds like Dennis here. 3/5
The Surfer Moon - I probably like this song more than I should. It aims to be a pastiche of pop standards, and it works well, both as a pastiche and as a song. Compared to what The Boys were doing before, it's a rather complex song, with an old timey sounding string arrangement. Though, what is this song about? What is a surfer moon? Why is it bad? I NEED TO KNOW. 4/5
South Bay Surfer - UGHHH. A dreadful, obnoxious rewrite of pop standard Swanee River, that sounds more like an agonizing chant than music. 0/5
Rocking Surfer - A fine, rocking (as the title implies) instrumental. 3/5
Little Deuce Coupe - I will never understand the popularity of this song. It's one of my least favorite Beach Boys' car songs. It's just so boring. 2/5
In My Room - WOW. A beautiful song, that's even better than Surfer Girl. The melody is gorgeous, the harmonies are breathtaking, the lyrics are good, and it's just great. Brian's first masterpiece. 5/5
Hawaii - A great, fun song. All there is to it. Though, this was apparently recorded around the same time as Catch A Wave, because Mike sounds rough here, too.
Our Car Club - A better production than song, this tune about a, well, car club is still pretty good. Love the drumming here. 4/5
Your Summer Dream - A pretty ballad that, while it doesn't reach the heights of In My Room or even The Surfer Moon, still shows Brian's maturing songwriting skills. 4/5
Boogie Woodie - Brian plays some intense boogie woogie piano to close the albun. It's pretty cool. 3/5
FINAL THOUGHTS:
A dang good album. Though, as long as South Bay Surfer exists, it ain't perfect.
RATING:
4.5/5
Thanks for reading! Next time, I'll be covering the Little Deuce Coupe album. I'll explain.