Some of you may remember a blog entry I later deleted featuring an OC by the name of Foxy Flash.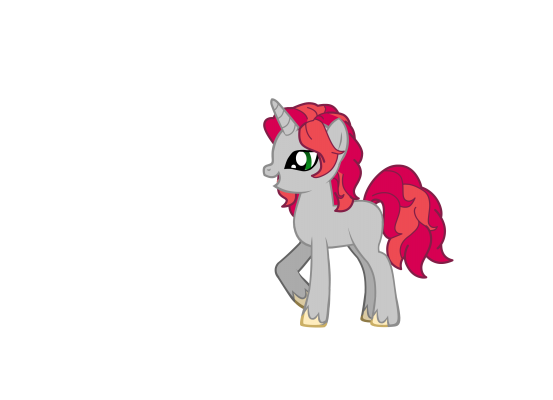 Well, I've fleshed her out a little bit more since then, although I'm finding it difficult to write her story right now.
Here are some details:
"Foxy Flash" is her pen name. Her true name is Foxglove Trotter. She is a young mare who lives in Canterlot with her family. Her mother used to be a famous model, Petunia, who married self-made stallion, Salvador "Savvy Sal" Trotter, a business-stallion from a less well-off family who made good as a retailer, in a similar vein to Filthy Rich.
She also has a (much lovelier) sister named Marigold, who is married to another stallion.
Her best friend is a pegasus stallion named Slipstream, who is the oldest son of a pegasus family of similar social level to the Trotters.
Fox's mother wanted her to become a novelist, since her cutie mark (a typewriter) represents her special talent for writing, and a novelist is an "appropriate" career for a well-to-do young mare. Secretly, though, Fox has always wished to be a writer and columnist for The Canterlot Chronicle, a newspaper which is known for printing the truth, no matter how embarrassing it might be for any rich and powerful ponies.
Knowing that her mother would never condone her daughter writing for such a tawdry (in her eyes) publication, Foxglove hides her other life from her, remaining anonymous as she sends in her pieces for the newspaper.
The setting is mainly Canterlot and Ponyville, in the current time of the show. I had intended for her to relate the adventures of the Mane Six from an outsider's perspective as she write columns about them, while having her own adventures in between.
Foxglove tends to take after her father, rather than her mother, in looks and personality, so she isn't particularly pretty. She's a bit of a daddy's girl. Traits – stubborn, headstrong, tenacious – not quite ruthless, but willing to go farther than is perhaps wise for the sake of getting a good story. Her personality is still developing, and probably will continue to change as I write, but that's the basic outline.
Do you have any comments or suggestions? I'd love to hear them.
1