Why Diamond Tiara is best pony (APRIL FOOLS!)
---
Today, I am going to worship the best of all the ponies. the most likable and complex character even matching the complexities of G3 3.5 ponies. Yeah, that complex. Here is our queen of ponies,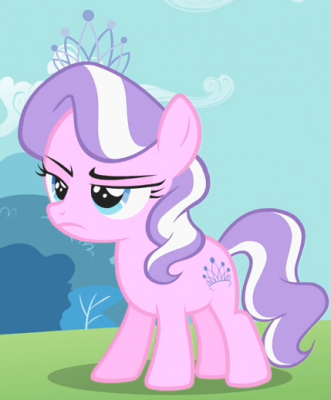 Diamond Tiara is the most lovable, relatable, and deep character in all of Friendship Is Magic next to Angel Bunny, Twist, Snips and Snails and Flash Sentry. Her intentions are good. Her goal in life is to constantly pick on the cutie mark crusaders for doing the scum of all of Equestria, not having their cutie marks. She does heroic things such as calling them blank flanks, making Apple Bloom's cousin bully her, and of coarse, making fun of Scootaloo for potentially being disabled. She sure knows how to deal with those less fortunate than her. I sure wish she had more episodes instead of those idiotic mane six. Especially that one annoying one Pinkie Pie. I mean really, all she does is annoy every pony and sing stupid songs. Her Lament in Pinkie Pride I just laughed at seeing her feel sad and left out because that's what the queen of brats diamond Tiara would do. Besides, the best part of Pinkie Pride was that one part where she got a song. She sure sang better than Pinkie's annoying voice.
So this is why you should all think Diamond Tiara is best pony. She is the only best pony and any pony who thinks otherwise shall
(suddenly, Chikorita gets hit in the head by a present from the party cannon and gets knocked out.)
Huh, what happened. What, WHAT HAPPENED TO THIS BLOG? WHY AM I WORSHIPING DIAMOND TIARA AND MAKING FUN OF PINKIE PIE? I SERIOUSLY THOUGHT THE STUFF SHE SAYS ARE WORTH DESERVING OF THE HIGHEST HONOR? WHAT IS THIS? I'M SORRY PINKIE! I HAVE FAILED YOU!
Anyway after freak out let me just say, happy April Fools day.
2