Entry posted by Wingnut ·
601 views
I thought I'd write a brief blog to say hi and to let everyone know one of my cats, Drift, was examined yesterday. He's doing fine but two separate vets said he had a heart murmur and it needed to be investigated by a specialist. So my roommate and I took him to be evaluated at a veterinary hospital.
Since he knows he's going to the vet anytime he's put into the cat carrier, he was not a happy camper and meowed pitifully for awhile. He quieted down before we got there and, as usual, he was a well-behaved model patient for the veterinary staff. The exam determined that his heart murmur appears to be a minor problem caused by the slight thickening of the heart wall. There is a chance it could be a degenerative, worsening condition. But most likely it will stay the same. The only way to know for sure is to have him tested again a year from now to see if there is any change. If not, he should be OK.
They also told us it will be safe for him to receive general anesthesia for surgery or teeth cleaning in the future. Here's a picture of him as a kitten from 2010. Amazingly he looks exactly the same today, just a bit bigger!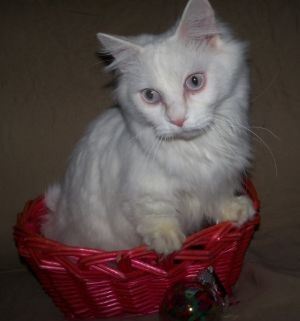 14