Wreck-It Ralph Review (Spoiler-free!)

Entry posted by Nas ·
935 views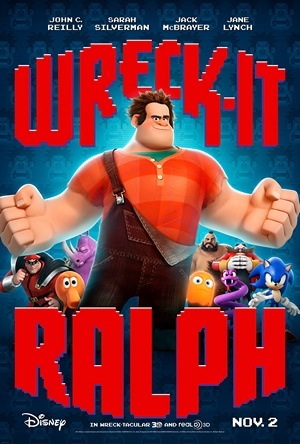 Y'know, a concept such as video games is rarely used in the big-shot film industry. And, as a pure-full time gamer, that depresses me. But earlier around Spring this year, when I first saw the trailer for Wreck-It Ralph, I was instantly hooked. It combined two of my favorite things in the world, the wonderful team at Walt Disney Animation Studios and the immense world of video games. This was one of the best things to happen to me as a video game addict.
I knew that they were the right ones to bear the hands of ownership when it came to this movie. And at first sight, what really catches the eye is the numerous instantly-recognizable cameos of video game characters that any kind of gamer would be able to recognize, from Pac-Man, to Sonic, to Q*Bert, Frogger, Ryu, etc., not to mention other video game pop culture elements, such as the Konami Code. That's one big thing with this movie, Disney went to a lot of video game developers to get permission for all 180-some visual cameos in this film.
Next to that, along with product placement from the likes of Nesquik, Subway and Mentos to name a few, this is one of my favorite aspects solely because it adds unimaginable amounts of authenticity and relativity to the fictitious world to make it seem closer to ours. What's even better is that Disney kept the real world connections irrelevant to the plot and made their own original story and characters, to keep the movie fun and alive. That is what I call pure Disney Magic.
Now, to the relevant part of the review, the plot. For three decades, an arcade has been filled with the hottest games in the world, some based off real-world ones, revealed to be all connected through the Game Central Station, a hub where all characters traverse to other games that is based in a power strip that has cords connected from all the arcade machines.
The oldest game, Fix-It Felix Jr. had had all the attention over the years. It consists of Felix, the protagonist, fixing the building in the game that has been damaged by Ralph, the antagonist of the game, protagonist of the movie. He's been rejected and degraded over the years as a the villain of his game, and he decided that he was tired of it and wanted some good attention, not an infamous label. The character is voiced by John C. Reilly, and is full of energy and excitement. The movie follows him and his mission to fix his wrecked reputation.
Overall, I found absolutely zero notable flaws, just in the humor department. The movie feels like it tries to be funny sometimes, and only a few it just seems like too much. Let it be known though, that that is a very minor letdown, as it's easy to get distracted back into the goodness that is this movie. Other than Ralph, there are tons of original, unique characters with wonderful voice actors and personalities.
There's a couple cliffhangers, and a handful of shocks and surprises, but perhaps most notable is the emotion and darkness the film delves into sometimes. I was never a big crier (which I find pretty suckish, personally), and it nearly jerked a few tears out of me, so that's saying a lot. The soundtrack and score is overall great (one of the games has Skrillex as its theme; I like dubstep personally, though I think it can be iffy all around). The film is produced by John Lasseter, CCO of Walt Disney Animation and Pixar Animation Studios, that was one of the things that hooked me.
In the end, the movie impresses me to an extent that has me agreeing with every single aspect of it; the characters, story, voice actors, emotion, music, humor, and pop culture references. I give it a solid 9.5 out of 10 with the only negative being a few failed attempts at getting a laugh out of the crowd. Other than that, it is simply one of my favorite films of all time.
And not only because of its video game world-based theme, but that it can attract all non-gamers put there. Even if you don't recognize the 9,001 references to video games in the movie, you'll be hooked by its likable characters, emotional theme, and creative plot and script. I recommend it to every single person watching this video. It's a Disney movie, it's a perfect movie.
10