Turbo Review: Stubbs the Zombie in Rebel Without a Pulse (XBOX)
Entry posted by Kyoshi ·
1655 views

Want just a quick summary? Check out the Final Verdict for that and my rating!
Stubbs the Zombie
Platform: Xbox, PC
Genre: Third Person Action/Shooter
Publisher/Developer: Aspyr/Wideload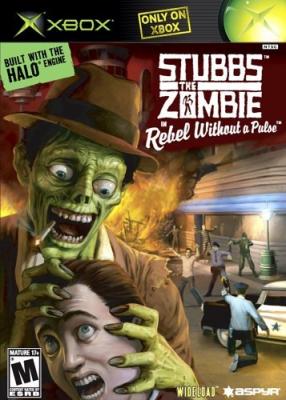 Stubbs the Zombie was a very neat release from 2005. In a world populated by zombie media, movies, games, etc, Stubbs came along and through a wrench in the zombie game formula by adding comedy, a neat setting, and instead of killing the zombies, you ARE the zombie.
You play as Stubbs, formerly known as Edward Stubbs, an entrepreneur from the early 1900's who unfortunately met his fate in a rather...precarious situation. He rises from his grave during 1950's America in a city built for the future. It has floating cars, robots, lasers, all of that cool future tech that we still don't have most of today! Well, it's all about to be ruined.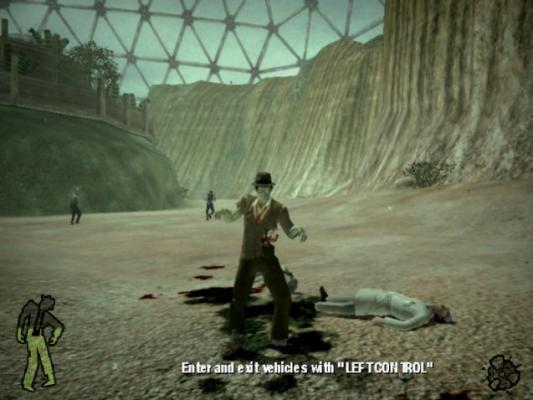 Stubbs's adventure leads him through several parts of the city as he goes to exact his revenge. The game runs on the same engine that Halo 2 was built upon and it shows. You control Stubbs in a third person perspective, beating up cops, and other baddies with basic Melee attacks to start with. Once you kill an enemy with Stubbs, they will shortly rise as a zombie companion that will fight by your side! When they kill others, they too create more zombies for your horde. Granted these zombies are much dumber than Stubbs and don't have the staying power he does, but they pack a punch in numbers. Like zombies! Another big aspect is brain eating, which can be done once an enemy is stunned or if attack from the air or from behind. Eating brains refills your health, your power ups that you get, and is a quick way of dealing with enemies. Not all enemies are susceptible to this though so think wisely.
Throughout the game, you get several 'power ups' that help you dispatch your enemies and these add variety to the gameplay. You get things like a flatulence blast which stuns enemies allowing for quick brain eating, a gut grenade, and even
removing your hand to mind control different enemies, allowing you to use their firearm as a weapon! These are recharged as you eat brains and they add a good amount of variety to the game's combat since the standard Melee attacks would get old quick.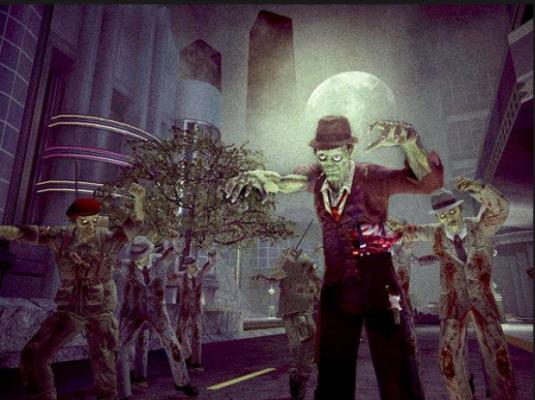 The controls are fairly straight forward. You control Stubbs with the left stick, camera with the right, and all of the other buttons perform your different actions. Since it runs on the Halo engine, it actually feels a lot like that in control, well, except for the zombie part. This carries into controlling the different vehicles you can use throughout the game, which further adds to combat variety. Despite being a zombie, Stubbs does manage to control well except in jumping, which sometimes can feel floaty and imprecise.
The story is very cliche intentionally with a ton of random humor thrown into the dialogue and the world. The humor here is actually really effective which is hard to achieve in a video game and it will have you laughing at several points. The humor involving the futuristic aspects of the city are also well done.
The game also features a co op mode where you play through the story with another person, who plays as a zombie that looks eerily similar to Stubbs but is a different entrepreneur entirely. While this mode is basic, I actually found it quite fun as it basically doubles the carnage you can cause. Granted it definitely makes the game easier but that's what the harder difficulties are for.
Another great aspect that was unexpected for me was the wonderful soundtrack. It features many wonderful songs that belong in the timeframe that the game takes place, with classic songs and remixed versions of those songs. Yeah, the soundtrack surprised me greatly and it was one of the best for that year.
My only real complaint other than some of the simplistic aspects of the combat is the length of the game itself. The game is rather short and can be beaten in only a few or even a couple of
sittings. This may put off some and it depends on how much you enjoy the game itself. I found it fun and unique enough to look past it but others might not be able to.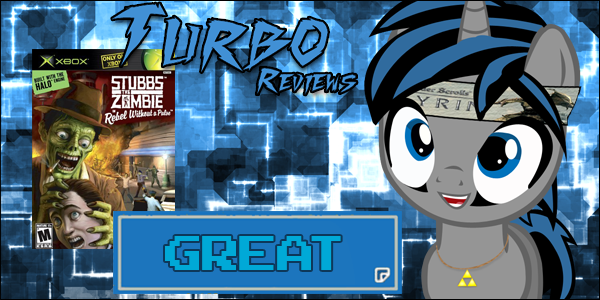 Stubbs the Zombie is an excellent game that is only really held back by its length and lack of modes. While the basic combat isn't entirely engaging the zombie creating aspect and the different power ups at your disposal make the game satisfying to play through. The humor is an added bonus as it is done very well and will have you laughing at several points, the game definitely doesn't take itself too seriously. The voice acting is good too and supports the humor. The co op mode helps add to the replayability but it is local only. If you can look past the shortness of the game, I say it is well worth having in your collection and it is a game I would love to see get a sequel.
Pros:
+Fun and unique zombie gameplay
+Great humor and characters
+Co Op adds playability
+Varied levels
+Wonderful soundtrack with original and remixed songs from the time
Cons:
-The game relatively short
-Some simplistic aspects to combat
Thank you for reading this week's Turbo Review!

Until next time,
Turbo out!
4