May be This was not the year for me. Not my year of great achievement, Not my year of Finding love or not my year for making a name for myself. No this has not been my year and it has not been Wolf's year.
From my birth to the year 2000 I had something in me. I had courage, pride, joy, strength, will, curiosity and I had something here *Puts Paw on heart* However that Year...I lost it all and became a shell of who I truly was and became a ghost to all.
I never fit in, I stayed to myself not giving anything. when I opened up I kept my cards close to my chest only showing what I wanted ponies and people to see and that was not much. I never kept a diary I never shared the full truth and I kept secrets that may never be heard ever again.
I will admit I have heart Ponies and people, not often Physically in fact hardly Physically and some emotionally. Always non intentionally more often then not purely on accident. I have had friend become enemy's and some friends lost. I have made some enemy's friends and mixed with the good and the bad. However in the mist of it all I was always alone.
since then I made a shell and many layers of walls to protect me. I had the skin of a dragon, the swiftness of a wolf, the cunning of a demon and the face of an angle. DDWA was what I created and they protected me from 2000 to 2013 it was in the last six months of 2013 I was introduced to a show...to witch needs no introduction, but hay may as well.
I was introduced to a show I thought was meant for girls "My Little Pony, Friendship is Magic" A friend suggested it so I thought I would indulge her request and watch the first two episodes as they were linked making one...literally the two episodes were streamed as one Part one and two.
after watching the one episode i kept going and going and over six months of broken viewing I watched all of them up to 2014 January 1st so while I waited for new episodes I hunted answers as to when it will come out and I found the site MLPForums and By 29th January I developed a Pony sona/Wolf and began a true journey of my own.
Little did i realize that yes the many years from 2000 to 2014 were not my years, Pain, anger, frustration, loss, bullying and having no real direction. However that changed because what died in 2000 was being born again. So no I had nothing, but now.
I have been here just over a year January 29th was when Phoenix landed here and he is here to stay. We came here to find answers to a question we no longer remember and we came here finding more then we barged for.
We met AppleGearRising. It was funny I was writing my first draft of my story and me and Apple had spoken a little and I liked his personality so I asked If I could use his OC or him in my book. Sadly he declined as he did not have an OC but he did offer assistance.
We truly connected when he spoke of having a bad day so we had a PM chat hoping I could brighten it up and judging by what was said it helped. we then spoke on and off for a while until 20th of march and that is when I met Nick 1925.
He Commented on a status Apple made and I could see he cared about Apple so I had a chat with him and well...it went well I guess. He was a little uneasy about me but we quickly got traction in a conversation at the time. He strongly resembled Fluttershy because he was off and then I mentioned something he was passionate about he then went slightly excited but like Fluttershy quickly wound back down.
However we kept talking until we has a stable ground in which he could confidently talk with me. then we, being me and Wolf, Nick and Apple began really communicating and we formed an almost brotherly tie, Like family.
I have every message I ever sent them here on the forum and between them we have had over 1200 replies to one-another and in every reply we have been truthful and kind. I once said that between the three of us we could have used the Elements of harmony And I would not tread ether of them for anything...and I mean anything.
you see over the past year I have been rebuilding my tru self and that is Phoenix, but I did not truly create him...My family did. My brothers, who I have never met. However I trust them more then any one else...I trust them like they were my true brothers and I love them the same way to....and unconditionally to.
They could tell me anything and my view on them would not change...no matter what they said.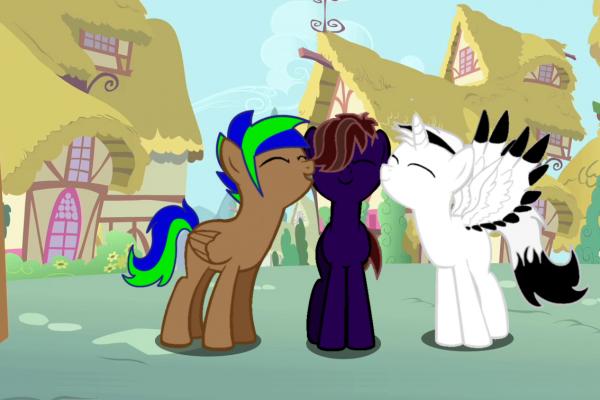 We are Family and that is all that matters to me.
3