Summer of the Factoids: WILLY WONKA AND THE CHOCOLATE FACTORY
---
Come with meeeeee,
And you'll beeeeee
In a wooooooorld
Of Useless Information.
What you'll reaaad
Will require...
...explanatioooooooonnnnnnnnnnnnn...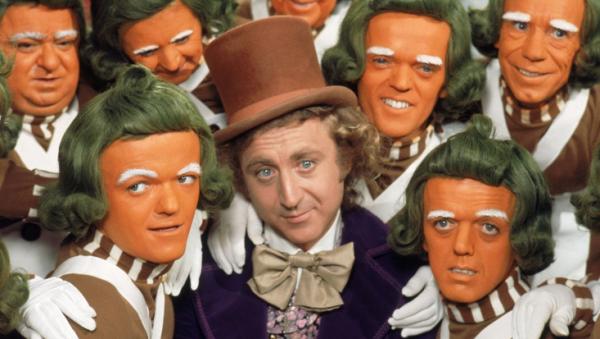 And this blog is certainly not showing ANY SIGNS THAT IT IS SLOWING!!!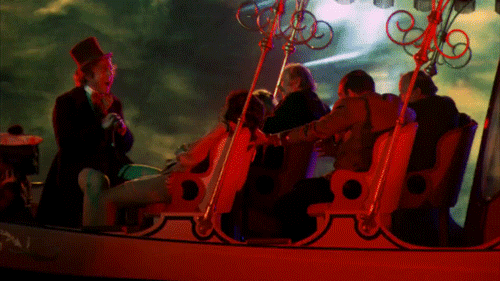 -The film came about when director Mel Stuart found out his daughter was a fan of Ronald Dahl's Charlie and the Chocolate Factory and wanted him to make a movie about it. Producer David L. Wolper convinced Quaker Oats to finance the film to promote their new Wonka Bars, hence the change of title from the book in order to put the word "Wonka" out there. The movie's literally a commercial for candy.
-The screenplay was written by Ronald Dahl, with uncredited rewriting from David Seltzer, added Wonka's affinity for literary quotes, Charlie's encounter with Fizzy Lifting Drinks, and the presence of Slugworth, who was only mentioned in the book.
-The role of Willy Wonka was first offered to Joel Grey, but it was decided he wasn't imposing enough. After that, the role was offered each member of Monty Python, Spike Milligan, who was Ronald Dahl's preferred choice, Ron Moody, Peter Sellers, and Jon Pertwee, who was too busy playing the Doctor on Doctor Who at the time.
Eventually, Gene Wilder auditioned for the part and blew Mel Stuart away, so much so that he promised Wilder the part before the producers could work out a fee.
- Most of the movie was filmed in Munich, which was cheaper than filming in the US.
- Peter Ostrum, who played Charlie Bucket, hit puberty during filming, resulting a voice that gets noticeably deeper as the movie goes on.
- Grandpa George's actor, Ernest Ziegler, was practically blind and required a red light to tell him where to look during filming.
-During the Candy Man song at the beginning, you can totally see one girl get walloped in the chin when he lifts up the counter.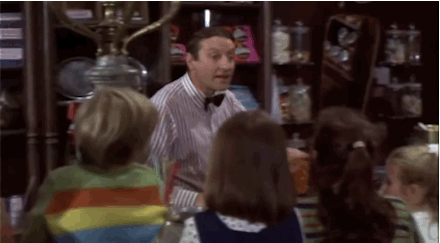 -It was Gene Wilder who thought up Wonka limping before somersaulting during his big entrance, the idea being that the audience wouldn't be able to trust Wonka from that point forward.
-Both Denise Nickerson (Violet Beareguarde) and Julie Dawn Cole (Veruca Salt) had crushes on Peter Ostrum and made a deal where they would each get to hang out with him on specified days.
- Most of the chocolate bars in the film were made of wood. Conversely, many of the props in the Chocolate Room were actually edible, though that doesn't include the cup Wonka takes a bite out of (it was actually wax) and, can you believe it, the incredibly fake-looking chocolate river, which was just brown-colored water. The added cocoa powder failed to thicken the liquid, and it went foul fast and stunk up the joint.
-That's a dummy shooting up the pipe during Augustus Gloop departure.
-Julie Dawn Cole's British accent rubbed off on the the other child actors, and they unknowingly said a couple of their lines in an accent.
- Many of the Oompa-Loompa performers didn't know any English. It's noticeable when they appear to be mouthing random words during the songs.
Well, a different kind of random than "oompa-loompa doompety doo," anyway.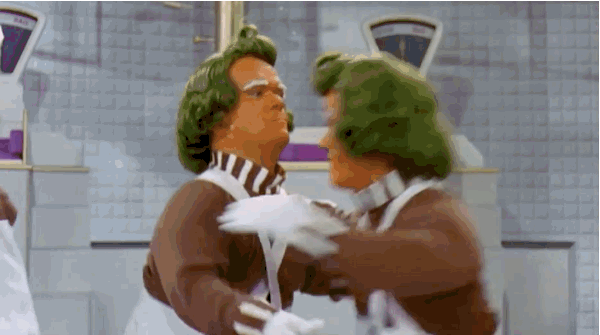 - For Violet Beareguarde's demise via blueberrification, Denise Nickerson was stuck in an inflatable suit, which was switched out for a giant styrofoam ball that had to be rolled around every few minutes to keep her blood circulating. Due to time constraints, she had to be kept in costume and make-up through lunch. During filming, the Oompa-Loompas would accidentally roll Nickerson into walls. Some of the make-up soaked into her pores and resurfaced a few days later, turning Nickerson's face blue during math class.
- Veruca Salt's earth-shattering tantrum required the room to be reset after each of the 39 takes.
- The Wonkamobile caused some severe skin irritation. It's not a real movie production until somebody is accidentally exposed to substances that cause great discomfort.
- Many of the child actors' reactions in the movie are authentic: they didn't know Wonka was gonna come out of the factory hobbling, they had never seen the Chocolate Room before shooting that scene, they actually thought Gene Wilder had gone mad during the Nightmare Boat from Hell sequence, and Peter Ostrum was unprepared for Gene Wilder yelling at him at the end. Wilder wanted to warn Ostrum before shooting, but Mel Stuart forbade it.
- There's no real thematic reason everything in Wonka's office is cut in half. Mel Stuart just felt that it would have been weird to go through all that whimsical tom-foolery and to have it end in a normal office.
-True to their characters, Peter Ostrum returned the Everlasting Gobstopper prop at the end of filmmaking when he was asked to, while Julie Dawn Cole stole hers as a keepsake.
- Denise Nickerson ended up getting 13 cavities from all the gum she had to chew.
- Despite appearing pleased when visiting the set, Ronald Dahl hated this movie, angry that it deviated so much from his original script and placed what he perceived to be too much emphasis on Wonka and not enough on Charlie. He denied ever watching it in full (though conflicting reports say otherwise) and wouldn't allow the filming of the original book's sequel, Charlie and the Great Glass Elevator. David Seltzer had an idea for a sequel separate from Dahl's, but he legally couldn't pursue it.
- Peter Ostrum never acted again after this movie, and instead became a veterinarian.
- The movie did okay at the box office, but it ended up finding success as one of the most rented films of the early era of home video.
Thanks for reading, and always remember what happened to the man who suddenly learned a bunch of stuff about a movie at once.
He lived happily ever after. I think. Never followed up on him.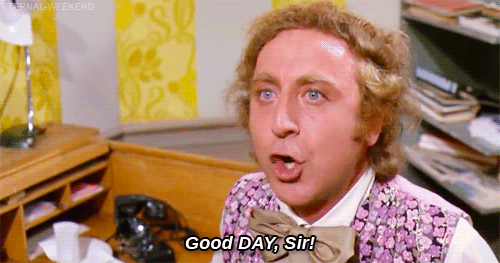 6