One of Pony.fm's key features is that it will share accounts with MLP Forums - meaning, your username and password on MLP Forums will double as a Pony.fm account. Pretty awesome, no?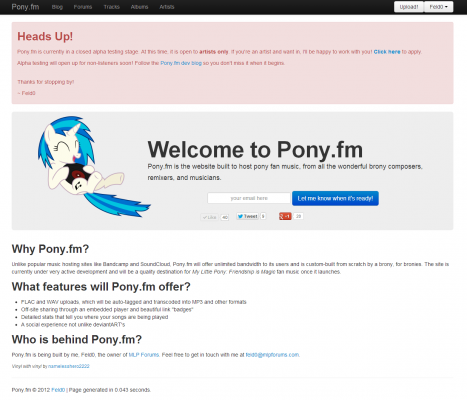 I'm pleased to announce that this functionality is now fully functional! If you head over to http://pony.fm/ right now, you will be able to log in using your MLP Forums credentials and come to the screen above. If you change your password, Pony.fm will be aware of this and will use the new password as well; you're welcome to play around with this.

Although account syncing now works, however, most of Pony.fm's features will continue to remain disabled until enough of the site's core functionality is in place to open it up. Even then, be aware that it will be in a bona-fide public alpha state, where anything and everything will be subject to change and improvement.
ATTENTION ARTISTS: If you haven't joined the early alpha team yet, space is still available!
14