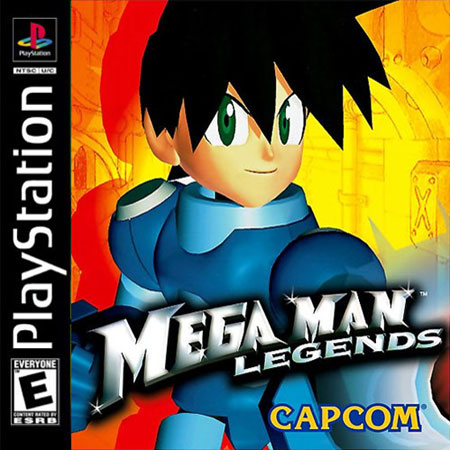 Megaman Legends is a very interesting game. Before it every Megaman or Megaman X game had always been an 2D action, side-scrolling platformer. Megaman Legends, however, was a completely alien experience for fans; rather than running from one side to another on a 2D plane shooting every bad guy and taking on an army lead by madmen, you were instead put into a full 3D world exploring ruins and discovering treasure while making your way through mysterious robots and thwarting pirates. It was a wholly unique experience from the Megaman franchise at the time and since it's release it's developed quite a cult following, and today, it's finally made its way to the Playstation Network Store. How well does it hold up?
The story takes plays several tmillenia into the Megaman timeline(though no prior knowledge is needed to play the game). You take control of a new incarnation of Megaman called Megaman Volnutt(who is also referred to sometimes as Megaman Trigger), a 14-year old digger who travels a world covered in water with his surrogate sister and Spotter Roll Casket, her grandfather Barrel Casket and a little robot monkey named Data. The game begins with Megaman escaping a ruin after successfully getting a refractor(which serves as both money, and an energy source in the game). After escaping, the groups ship (called the Flutter) has an engine failure and crashes into Kattelox Island, where they meet the locals and a small town up ahead to meet with the Mayor. During their stay there they venture through several ruins, meet antagonists(though not bad guys) the Bonnes, a lovably goofy family of pirates who tries to find all of the treasure they can at any cost, and they learn from exploring the island's ruins that it contains a dark and ominous secret.
This is probably the first time since the original Megaman X where the story in a Megaman game is actually pretty fun and engaging. The build up to the game's climax is fun to follow through and the characters are the best. Megaman and his "family" all have some pretty fun quirks and are great to be around, as well as some of the Kattelox's residents. But the real stars are the Bonne Family, who are some of the funniest characters in the game, Tron is feisty and stubborn girl with some temper problems(who also totally has a crush on Volnutt), Teisel is her crazy, hot-headed older brother who emotions are all over the place(which leads to some hilarious moments) and Bon Bonne who is the youngest of the 3 siblings because he's literally a baby, and and yet can operate a giant robot(He is likely inspired by Baby Commando, a character in the Capcom beat-em-up Captain Commando). Then there's their henchmen(and the game's pseudo mascots) the Servebots who are absolutely adorable despite their incompetence. They're some of the best adorable yellow/blue henchmen out there(suck it Minions!)
Also Wily makes an appearance, but as a normal boat salesman rather than a crazy scientist
Gameplay
As I said before, Megaman Legends is a much different experience from the traditional Megaman games. This is the first Megaman game that lets you experience the world in a 3D adventure game. As far as controls go, they work well. Movement and shooting work fine, and you can interact with different objects, sometimes they do nothing, sometimes they explain game mechanics or the story, and somethings, usually boxes, trash cans and treasure boxes, contain items. The shoulder buttons move the camera, and the R2 button allows for targeting enemies. One glaring issue however with the targeting is that you can't move while targeting enemies which can make it difficult for targeting enemies, and sometimes it's difficult to switch enemies when there are multiple ones at once. It's takes a while to get used to and simply becomes a minor inconvenience once you do, but I can see this turning off some new players. There are also some situations where some enemies can become unreasonably difficult and overwhelming to deal with at times, which can lead to a few cheap deaths, especially for newcomers.
As for exploring, you can enter ruins and search for hidden items, treasures, buster parts and money(which can also be obtained along with health from defeating enemies) with some items being harder to find than others. Some ruins may have areas where you can't progress further until certain items are found(such as the Drill Arm or Jump Springs). Some items can be taken to Roll to be turned into buster parts, special items and special weapons. Buster parts can be used to upgrade the stats of your buster, which is your standard weapon and you can upgrade either your attack, energy(the amount of shots you can fire at one time, with 3 shots at the start, like every other Megaman game), range, and rapid fire and are completely unlimited. Special weapons are weapons that can be more efficient than your buster given the situation and are completely unique to each other, they range from machine busters, to rocket launchers, swords, vacuums(which is more useful than it sounds) with a laser being your strongest special weapon. Unlike your buster you have limited ammo for most of your weapons until your refill your weapon energy at the save point or have a Hyper Cartridge and you can upgrade your special weapons with money as well. You can also obtain Special items, some of which are either key items or items that improve your performance(such as Helmets, which protect you when you fall on your head, armor, jump springs, which improves jumping, and jet skates which allows you to move faster). Other items include energy canteens(refills health), chameleon net(which makes invisible and avoid enemy detection), Adapter Plug(which lets you equip more parts) and a shield repair(which lets repairs your shield when it gets too damaged). There are also various shops and vendors where you can buy more items, parts, increase your life gauge, energy canteen, etc. Items and parts can also be obtained by doing side quests, that can range from fun to annoying.
Visuals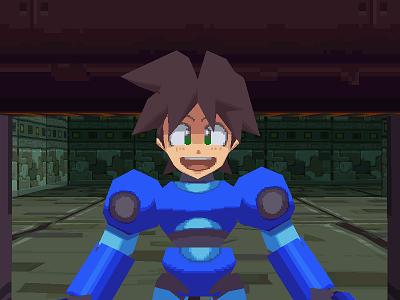 Visuals are a bit of a mixed. They game is very polygonal, and definitely shows its age in a lot of areas. On the plus side, the world is very colorful, some areas such as the town, shops and ruins are very detailed, as well as some cameos here and there left by Capcom. Ruins are made to be very dark and mysterious with a draw distance that adds to their ominousness. The game also uses cutscenes played in game and was very anime-like(not quite cel-shaded though), it allowed for characters to give some very good facial expressions, which was pretty impressive, not to mention rare for a 3D game at the time(keep in mind, not even Metal Gear Solid or Ocarina of Time had that). The character models on the other hand could have used some more work,while the main characters looked fine for the most part(which is probably because they focused mostly on them) most background character models had some ridiculously massive limbs and normal towns people look pretty ugly(and not intentionally).
Sound
Music is quite different compared to most Megaman titles, but it's still a very impressive soundtrack. Memorable tracks the Apple Market theme that plays whenever you're in the main town or in the small shopping arcade in front of it, it's very relaxing and will put you in a shopping mood. Most of the ruin's music definitely add to their mystique, though the
definitely gets bonus points for adding some suspense to it. And lets not for get the
, or the Flutter vs the Gesellschaft, both of which are up there with Dr Wily's Castle and X Vs Zero as some of the best tunes in the franchise.
This is also one of the few Megaman games that doesn't have awful voice acting. They aren't anything special, but they get the job done pretty well. Some characters can come off as a bit hammy, but with some of them they work very well and fit the character perfectly(again, Tron and Teisel are easily the most memorable performances in the game)
Also Megaman finally sounds like a boy
Overall
This game is an odd one. Visually it shows it's age, and I could see the shift in gameplay being a turnoff to some people, especially hardcore fans of traditional Megaman gameplay. But the controls still hold up well(despite targeting issues), and the story and characters are a blast to experience. For a new player it could be beaten in about 10 hours and beating it unlocks the Hard difficulty which allows for more replay value. Despite it's issues it's still a really fun game that I still say is very much worth giving a chance, especially now that it's on PSN(which means you won't have to donate an organ to buy the original PS1/N64 copy), though the best way to experience it is either on the PS1 or PS3 due to the lack buttons on the PSP/Vita, and because the N64 controller is seriously fucked.
2