For The Race Fans: Vehicle Profile: Ford GT40
---
The product of a long, tense and expensive battle with Italian race car legend Ferrari, The GT40 introduced the United States to international championship racing and forced European veteran constructors to take American teams more seriously.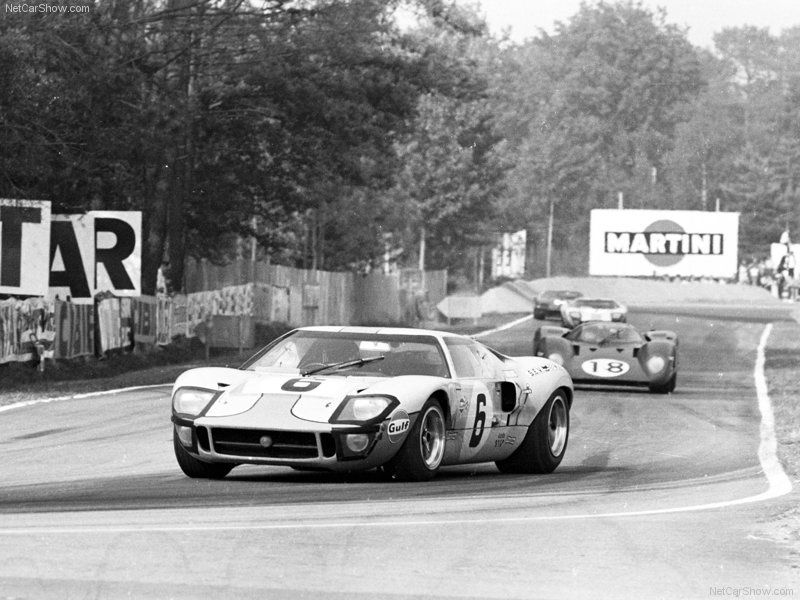 Gulf Oil Race Team Ford GT40 at the 1966 24 Hours of Le Mans
Manufacturer Quick Facts:
Main Office: Dearborn, Michigan, United States
Industry: Cars, Trucks, Commercial Vehicles, Engines and Automotive Parts
Notable Products: Model T, Model A, Mustang, F Series Pickup Trucks, E Series Vans, GT, Focus, Taurus, Ranger, Transit, Escort, RS100
Gulf Oil Race Team Ford GT40 in 1968
Engine: Ford V8 Engines of 4.2 and 4.7 liters of displacement
Transmission: 4 Speed Manual
Assembly: Slough, England, United Kingdom (Mk I, II and III)
Wixom, Michigan, United States (Mk IV)
Gulf Oil Race Team Ford GT40's at the 24 Hours of Le Mans
Overview and Development: In the early 1960s, the leader of Ford, Henry Ford II was very keen to enter the 24 Hours of Le Mans race. In 1963 Ford learned from a European company that Enzo Ferrari was interested in selling to the Ford Motor Company. After learning about this, Ford spent millions of dollars Auditing assets at Ferrari. This long process would determine how much Ferrari would cost to Ford to own and maintain. Just as Henry Ford II was interested in competing at the 24 Hours of Le Mans, Enzo Ferrari wished to compete in the United States at the Indianapolis 500. Enzo Ferrari was willing to sell Ferrari to Ford but he wanted to remain the leader of Scuderia Ferrari, the racing division which won many championships. Ford did not see much viability in Ferrari's interest in open wheel racing. Ford was the sole supplier for cars and engines to the Indianapolis 500 (much like Honda is today) and did not want any competition from Ferrari. Ford actually did field some cars using Ferrari engines. This angered Enzo Ferrari and at the last round of talks cut out of the deal.
Frustrated, Henry Ford II called on the European division of his company to build a "Ferrari Killer" and would pay for any costs related to its development. Ford Europe, based in the UK began assembling a team of British companies with experience in endurance racing. British manufacturer Lotus, had already partnered with Ford to develop better cars for the Indy 500 and Ford assisted Lotus with engine technologies for what would eventually become the Lotus Europa. To manage this project Ford hired the former team manager for Aston Martin. After several prototypes the European branch of Ford had developed a body and chassis while Ford at Michigan and consultants at Shelby supplied powerful V8 Engines.
Their work was immortalized as the cars fielded by Ford finished in 1st, 2nd and 3rd place.
The Ferrari 330P4 was the main rival of the Ford GT40 at the 1966 24 Hours of Le Mans
Successor: Since discontinuing the Ford GT in 2006, Ford has been working on a new GT and it has been a long rumor Ford is interested in returning to Le Mans. After unveiling the 2015 Prototype Ford GT, Ford announced it will return to Le Mans for the 2016 race and will field a new Ford GT and possibly the Shelby Mustang to compete in the lower class.
Ford Racing Ford GT Prototype debuted at Le Mans to announce Ford's return to the race.
Ford Teaser Trailer Announcing Ford's Return to the 24 Hours of Le Mans
2016 Ford GTLM Stealth Testing at Sebring
3