10 Wrestlemania Matches that were better than their main events
---
Despite being the WWE's biggest show of the year, not every Wrestlemania can turn out good, and there's bound to be some stinkers. This also holds true for the show's main event, which needs to hold the responsibility of ending the show with a bang, but there are some main events that ends the show on a whimper. This also increases the chances for other matches to shine, hell there's also those times where a 'Mania will always have a show-stealer whether it be a better wrestling match or just more memorable, even with a strong main event. With Wrestlemania fast approaching, and with another main even fans are expecting to hate, it's still possible for WM32 to have another showstealer, but if it does, it'll be hard to top some of the following showstealers
10) Triple H vs The Undertaker No Holds Barred(Wrestlemania XXVII)


Contenders: None
Lets start off with an easy one. With Wrestlemania XXVII often being regarded as one of the worst, with it's lackluster main event being regarded as one of the many reasons. The show also had a pretty underwhelming card to boot, including a match between Lawler and Michael Cole(that not even Austin could save) and freaking Snooki wrestling for fuck's sake. The show does have some good and underrated matches such as CM Punk vs Orton or Edge vs Alberto Del Rio(which also unfortunately was Edge's last match). Easily the best match though was Undertaker vs Triple H in a No Holds Barred match, which was easily the best match in spades. It paled in comparison to the two Michaels matches in the previous two Wrestlemanias, but c'mon those two were gonna be near impossible to live up to, and on its own right it more than delivered
9) The Rock Vs Hulk Hogan(Wresltemania X8)


Contenders: Undertaker vs Ric Flair
The original Once-In-A-Lifetime match, this was one of the most anticipated matches for fans all around. Hogan coming back to the company shortly after Vince bought out WCW, as soon as he came back they immediately threw one of WCW's top guys in a match at Wrestlemania with one of the WWE's top guy, The Rock. And while the wrestling itself was alright, it was a fantastic match to watch from a storytelling standpoint, from the crowd switching between cheering for the Rock and Hogan(despite him being booked as a heel) to Hulk Hogan "Hulking up" for the first time in ages, to the Rock kicking out of the Atomic Leg Drop, to the Rock saving Hogan after the NWO turns on him, just nonstop fun from start to finish. While Triple H Vs Chris Jericho was a fine match, Hogan vs The Rock is definitely worth more remembering
8) CM Punk vs The Undertaker(Wrestlemania 29)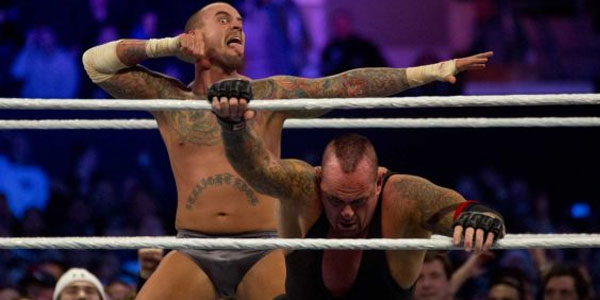 Contenders: None
While we're on the subject of "Once-In-A-Lifetime", was the second Rock vs Cena match really that necessary? The first in WM28 was good enough and we really didn't need another year to hype up a rematch especially when said rematch turned out to be a complete dud. In comparison, Punk vs Undertaker completely curbstomps it, and further proves why CM Punk is the best of in the world. Oh, and the Undertaker's still got it
7) Money in the Bank Ladder Match(Wrestlemania 21)


Contenders: Kurt Angle vs Shawn Michaels, Undertaker vs Randy Orton
Wresltemania 21 is probably one of the most important 'Manias in the history of the WWE as it helped build two of the WWE's biggest superstars of the current decade in Batista and John Cena, but there was one more guy who also got his big break at WM21, Edge, and not only did he also see his rise as one of the biggest heels in the company, he was also in a much better match, with the first ever Money in the Bank ladder match, and still one of the best.
6) Edge Vs Mick Foley Hardcore match(Wrestlemania 22)


Contenders: Shawn Michaels vs Vince McMahon
Oh look, another Edge spot. Despite two good Championship matches and another fantastic Shawn Michaels match, there's nothing that could top Mick Foley and Edge's hardcore match. Easily the most memorable match with one of the greatest spots ever
5) The Rock vs Stone Cold III(Wrestlemania XIX)


Contenders: Shawn Michaels vs Chris Jericho
The Rock vs Stone Cold matches are always bound to be classic matches, especially at Wrestlemania and this one is no different, except two reasons one was that this was the only one of the 3 bouts where The Rock would win, and this was the only one that didn't main even Wrestlemania. The main event between Angle and Brock Lesnar was fantastic, especially since it helped helped Brock Lesnar become one of the WWE's biggest superstars, but again, it's hard to top an Austin vs Rock match, especially it would become Austin's last match.
4) Daniel Bryan vs Triple H(Wrestlemania XXX)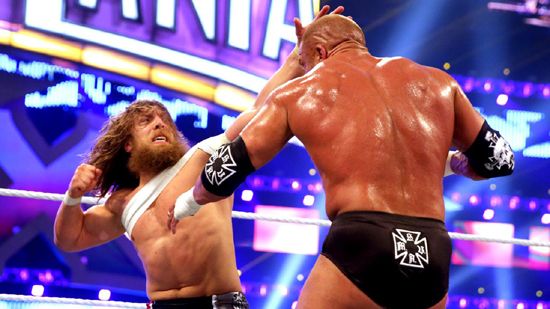 Contenders: None
The WWE was running into a pretty bad position when Wrestlemania XXX was approaching, as many fans weren't giving their main event a chance and instead they wanted the WWE to push Daniel Bryan into the main event, especially after no showing the Royal Rumble, and boy was it the right idea. While Daniel Bryan would win his match with Triple H and have an excellent Triple Threat with Orton and Batista(and thus winning the WWE WHC), it was his earlier match with Trips where he really shined
3) Triple H vs The Undertaker Hell in a Cell(Wrestlemania XXVIII)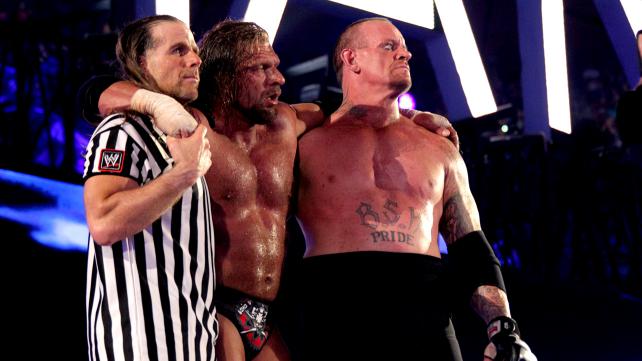 The last of The Undertaker and Triple H's 3 'Mania, arguably the best, but easily the most memorable. More tension added with the addition of Shawn Michaels as the Special Guest Referee(seriously, him as ref is almost guaranteed to improve the match), one of the most insane kickouts ever. While WM28's main event was a solid fight, nothing could top a Hell in a Cell match between the two Superstars that helped the match become a must watch.
2) Shawn Michaels vs Ric Flair(Wrestlemania 24)


"I'm sorry, I love you"
AKA the match where everyone cries at the end. And truth be told, this one was really hard to rank as it was the same Wrestlemania that had the Undertaker vs Edge, which was easily match of the night material as well as "best main even ever" material. But in the end I had to give it to Michaels and Flair, great emotion and storytelling, this match proves why Shawn is "Mr. Wrestlemania"
1) Shawn Michaels vs The Undertaker(Wrestlemania 25)

Seriously what else did you expect?
For being the show's 25th anniversary, there were surprising a lot of things wrong with this show, from two underwhelming main event title matches(especially considering HHH Vs Orton's buildup) to an insulting Diva's battle royal. But there was one match that made me forgive all of it, one match that made the event worth watching. Undertaker vs Shawn Michaels at Wrestlemania 25 is often regarded as one of the best matches ever, let alone best at Wrestlemania. It was so critically acclaimed that WWE decided to make a just a rematch that was just as excellent in the next Wrestlemania, and one made it the main event.
It also delivered one of the most insane moments with Shawn kicking out of the tombstone, with the Undertaker's priceless expression seen above
3