Entry posted by Jeric ·
1078 views
Read this primer for an explanation of this blog series.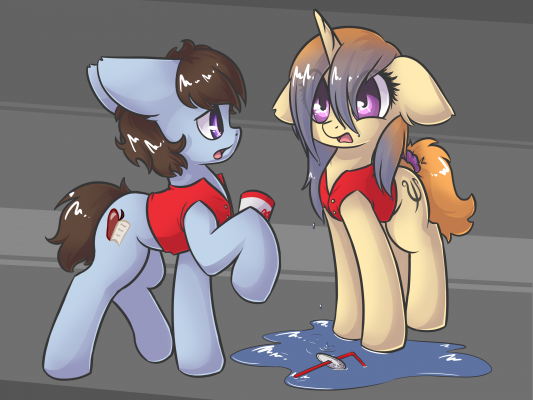 "... and this kids is how I met your mother."
Summer 1993

The long passage of time tends to dull memories, relegating them to a sepia toned imprint that favors emotion more than fine detail. These evasive portraits of ephemeral moments are recalled and tease greatness, only to deny their full truth. Most old memories are odd like that. There are some, however, that defy the rules. They play through your thoughts substituting vividness in lieu of trickery and the conjured history of your imagination. This is how I can see the precise moment and nuance of my first significant encounter with a girl named Jessica.
Enter Florida - AKA Discount Dagobah
So I feel that it is crucial to set this up properly. Perspective and background are fairly important with this story, as these elements will become crucial in just a few short years. My father had been recently diagnosed with cancer, and was undergoing chemo, radiation, and even surgery. He worked it out so that my sister and I would live with my estranged mother and her new husband while he fought his illness. So in the summer of 1993 I was sent from Philadelphia to a place in Florida that felt like Green Acres in comparison. Not necessarily a bad thing, as I always favored the country over the city, but the events that led me to traverse the east coast for Florida left me bitter. I always had a slightly confident side to me, but this move set my general mood up in a way that that my confident side come across as ... arrogant.
Upon arriving, it became painfully obvious to everyone that I did not want to be there. I wanted to be at home by my father's side. Being 'cast away' like a child during a time I felt my father needed me was something that weighed on me constantly. I will give my mother some credit, she tried to be supportive, but there was a bit of baggage there, so it didn't exactly work the way she probably intended it. Half measures didn't impress me at the time. Enter plan 'B'. Within a week of moving, my mother's husband set me up with a part time summer job at a local movie theater. I accepted only because I didn't want to accept my fathers money, my mothers money, and I wanted to get out of the house.
Free movies! Free popcorn! What could possibly go wrong?
So shortly after arriving in Florida, I started my first 'official' job. New place and new job meant new people. Since the theater hired a lot of high school students, I would actually get to know a few better in school over the course of the years. There was Geoff, a guy who gave me a run for my money in the sarcastic humor department. We became pretty close friends in high school. There was Wayne, who went by the name Lee for some reason. He was the music guy of the group and I remember he introduced me to Sublime and several other bands. There was Joe, the unapologetic nerd ... and I say that with great affection. Joe and I have actually maintained communicate to this very day, and have attended various cons together. One was my best man and Godfather to my oldest kid.
Nameless
There were a few others. Background characters mostly, but two are fairly important to this tale. A effervescent and vain girl named Brianna with penciled in eyebrows. Brianna had a close friend from school, who she pressured into applying for a summer job with her. This other girl was shorter, had blonde hair that was always tied back in a scrunchie. Don't laugh this was the 90's. I would love to be able to say that laying eyes on her for the first time yielded some sort of angelic choir, slow motion fan on hair action, or something equally poetic ... but the truth is ... that just isn't my reality. I did notice her though. This one was quiet. She rarely spoke ... but carried herself with confidence and purpose. To me, that was an curious combination. People that walked and stood the way she did always tried to own the room. They loved to talk, and usually talk about themselves, or about things that related to them. Not this girl. I remember thinking that she was comfortable in her own skin. She also seemed to be perpetually appraising or studying her environment. I couldn't put my finger on it at the time. It is an amusing thing when I think back to this day. I can think back and recall her gait, how she exuded confidence, and her observing the world with rapt attention. I noticed all of that, but I could never remember her name. Not that surprising as we said all of one sentence to each other ... until one day in June.
June hit and hit hard with a big new film. Jurassic Park was out and DTS and CGI Dinosaurs were sucking in the bodies. I was scheduled to work front concession with three other people. The concession stand was an octagon shape with the popcorn kettle in the center. I was set up at the register directly in the back. Remember that Brianna girl with the penciled in eyebrows? Somehow her eyebrows got smudged and she took a bee-line to the bathroom with five patrons waiting in her line. Nameless jumped on to help run the register and move the line. The problem here is that she was running both registers now. Nameless was actually working two registers at once. That caught my attention, and as I was considering how to help out ... right on cue, one of the soda fountain lines ran our of syrup. She called out to a Manager standing in the lobby to switch out the Coke box. Her voice sounded stressed. Pencil brows was nowhere to be found.
Murphy's Law
She was getting overwhelmed. At least that is what I had suspected. She had an order for a large popcorn and what was a 64 oz. drink called the Cobbster. I quickly yelled, "I got your drinks". I heard her say thanks. The cup filled up and I lidded it. What happened next felt like I was living through a Three Stooges slapstick shot. I turn and start making a quick sprint to Nameless who happens to have her back turned. At the same time, Briana was coming in through the swinging door into the concession stand just as I am passing by. To prevent a collision with her I spun. This is probably where I should mention that Brianna had spilled coconut oil or butter on the tiled floor earlier in the day. You can probably see where this is heading. I slid and an an attempt to steady myself I grabbed the edge the counter. The Double Gulp sized drink decided that this was not its day to break the laws of physics and ... well ... just as Nameless turned around the cup stayed in my hand, but not the lid and the liquid.
There she stood, looking like she was in shock, her hair and face the beneficiary of my attempt to help. Her bangs hung weighed down by the wet. I remember trying to see if she was wearing makeup and if her makeup was running. I remember letting the cup drop, its dull 'plut' sound louder in my memory than it likely was. Most importantly, I wanted to remember her name without having to look at her name tag. I searched my mind desperately. It began with a 'J'. Jennifer? No that wasn't it. As she stood there dripping, I wanted to say I was sorry, to somehow make it right. Before I could, Brianna made herself known ... by laughing. Big mistake.
Clever Girl
Nameless snapped out of it. I suspect the hyena like howling from her friend did the trick. She gave me a look that said, 'I'll deal with you later' and walked past me with a surprisingly nice 'Excuse me'. As she passed the still laughing Brianna, she stuck our her thumb and wiped it over her newly fixed eyebrows and said over her shoulder that she will be back after she towels off. Brianna, looking quite amusing but not amused, muttered something under her breath. I didn't catch most of it, but I was smiling regardless. Brianna said the nameless girls name and I caught it. I would not forget it again. The nameless quiet girl had a name. I also would quickly find out ... she wasn't shy ... and wasn't as quiet as I thought. June was going to be a long month.
Read Part 2
16