It's been about a week since the first full day of BronyCon and I still can't get over the positive experience I had there. It was not only my first MLP-related con, but my first convention of any sort period. I mean just walking in after the day of registration and seeing all of my fellow bronies there...it blew me away. Add in the fact that Baltimore is such a big and beautiful city...I had no words. Please keep in mind I come from a VERY rural area of West Virginia and outside of a few trips out of state with the family I haven't experienced cities bigger than Charleston, Huntington, or Beckley all that much.
I began my journey on Thursday from Yeager Airport; this being the first time I ever flown. As a result of going with the cheapest route I had a layover in Charlotte and I was literally aghast at how big that airport was. If airports were monsters then poor Yeager would be prey to Douglas and BWI. XD That said all flights that day were smooth and I have plenty of photos of my first flight.
Upon landing at BWI I was picked up by Sergei and his friend; and as we had a room-share setup we made our way to our hotel. This was actually my second time in Baltimore; the first being WAY back in 1997 on a field trip from Shepherd College. My second time reaffirmed just how big Baltimore is...and it's quite beautiful. It was also this day that I met those whom I have considered my closest friends for quite sometime. Just finally getting to meet Koukatsu, BatBrony, Stitch, Simon, Simeon, and others whom I am sure I am forgetting was amazing. The emotion I felt when we embraced...it was amazing. I wanted to cry, and I almost did.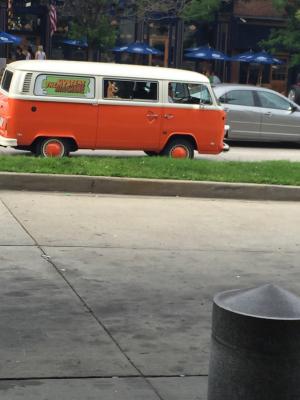 Scooby Doo!? Where are you!?
On the convention itself...what can I say? There were so many people there...most of course being bronies and just being around those with whom you shared a special interest was immense. Thankfully it never felt overcrowded and everyone I met was friendly beyond belief. My main goal, aside from meeting my friends and fellow bronies, was to attend as many panels as I could and to visit & splurge at the marketplace; both of which I accomplished in spades. If I had to pick my favorite panels, it would definitely have to be the Mane 6 panel where the voice actresses of the Mane 6 were together for the first time at a con, Analyzing MLP Live which had Silver Quill, KP, Firebrand, and Dr. Wolf in one of the most hilarious panels ever, another panel with Silver Quill analyzing Putting Your Hoof down live, and plenty of others.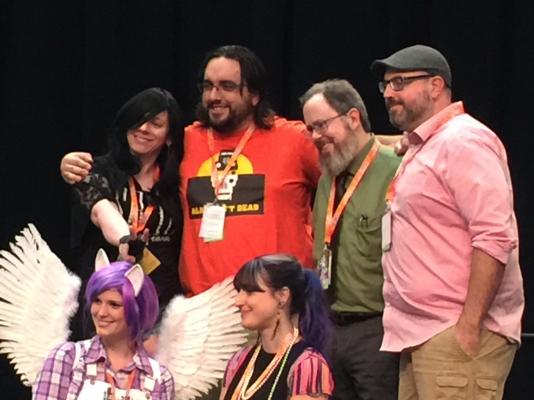 The Comic Creators Panel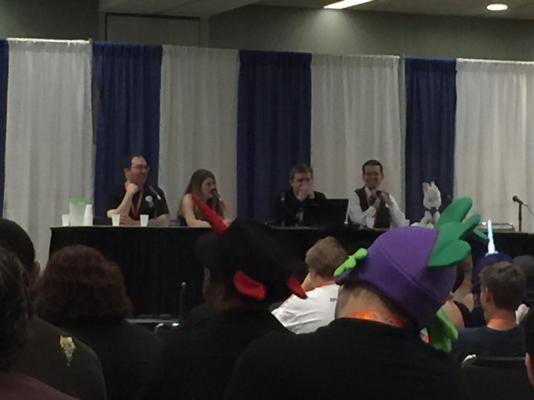 Poor Firebrand...you would know if you were there; got burned so hard. XD
And of course...I probably spent too much at the Marketplace, but I don't really mind, if I am too be honest. I wanted at least one plush and one shirt, and I left with quite a bit more than that. I won't share all what I got for fear of bragging, but I will show off a certain Great and Powerful One that made the return trip to West Virginia with me.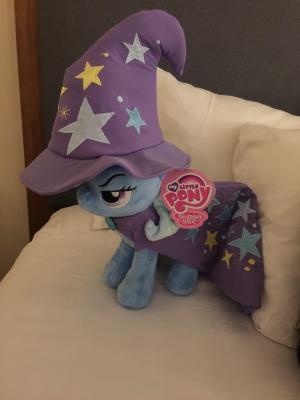 She's mine, ALL MINE!!!! <3
Once all was said and done...yeah, I miss it still. BronyCon 2016 has a place firmly within my top-5 best experiences ever, and I plan on coming back next year. For as long there are pony conventions, this Pathfinder Deer will do what he can to come back, and hopefully reunite with friends once again.
7