MY LITTLE CORPORATE-MONEY-HOGGING-PRISSY-PRETTY-PONY PETTY WITH HOOF-A-CURE AND OTHER FRAGRANCES THAT ARE NOT INCLUDED IN THE PACKAGE YOU PURCHASE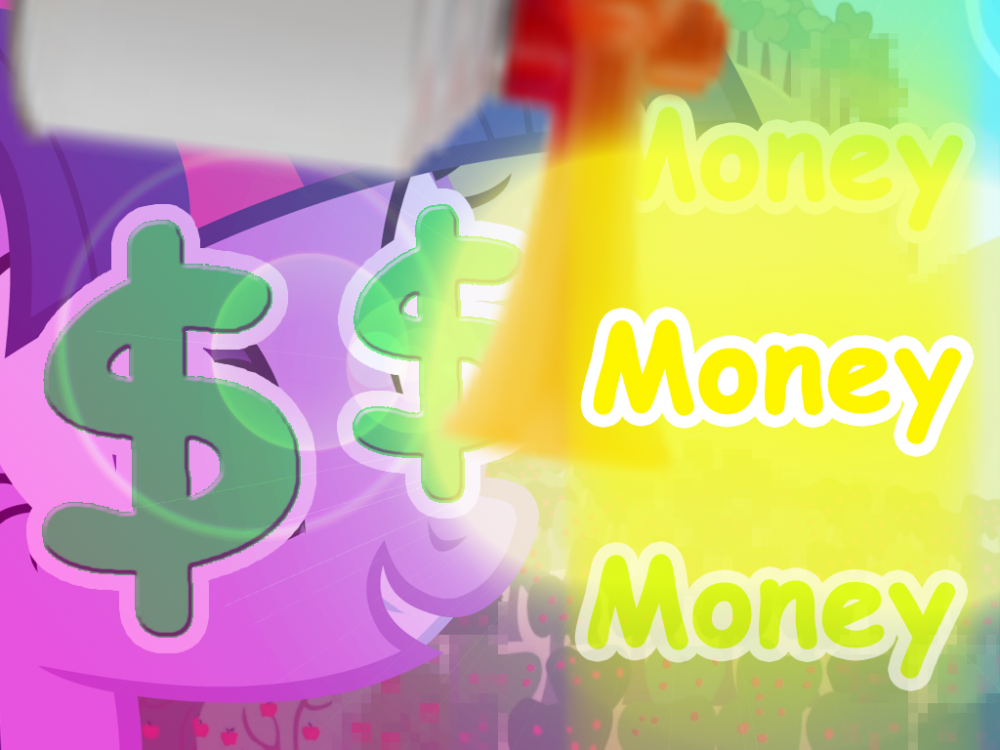 I trust everyone's played Monopoly, yes? Good 'cause you'll probably need to know what that's like for this story.
So I've done a bit of thinking and, it's been two weeks! Congrats to me for sticking it out for this long. Seriously, content is running short after daily blogging. I feel like Flint Lockwood from the movie "Cloudy With a Chance of Meatballs". Anyway, after a bit of thinking, I thought about extending my "memories" to "beyond bronyhood". Going where no man has gone before with "Reality Publishing's Tales of Unfortunate Tails +". It's special 'cause it has a plus at the end
. So that would kinda be a Season 2? I don't know, I'll probably do one more week of this before thinking about a sequel. To keep it going for a full month, y'know? Let me know if I should divide the series in the comments. Either way, I'll probably try to keep going; these covers are fun to make.
Anyway, today's story goes back about 3 weeks, before I started doing all this crazy blogging. I was in my room, minding my business when me mum calls me down to play a game of Monopoly with her. I shrug and, because I'm sick of playing MW3, I go right ahead. Now, my mom is one of those people who have to collect every version of the same thing. So we had about 20 versions of the game, Monopoly. Naturally, because of this, I ask her,
"Which version do you want to play, then?"
She thinks for a bit, before opening her mouth to say,
"Let's play your My Little Ponies one."
Now, I really didn't object to this and that wasn't too much of the problem. The real issue was that I'm an avid viewer of the show, thus, I'd be the MLP brainiac in front of my mom, who had only seen a single episode in all her life (Hearts and Hooves Day). I went through it anyway.
We set up the game, got the money out and went about 2 times around the board before suddenly realizing just how twisted this whole thing was. We were playing as ponies, walking around, buying structures so we can monopolize Equestria. Therefore, we were buying Equestria and not letting anypony else reside within it because we owned it.
I had to explain all the landmarks and pony personas like a wikipedia page and, in the end, I won as Applejack. Kinda makes her solo in "At the Gala" a bit more realistic, huh?
Lesson of today is to be frugal. Don't spend your money all in one place unless you land on The Crystal Empire or Canterlot. Then build a few houses on there and you're good to go until your opponent milks you with the brown properties.
-RealityPublishing
(I would've explained the game a bit more, but you really don't want to read four hours of rolling dice and buying crap. Also, buy the Orange properties. If you want an explanation on that, go buy the Monopoly Companion. [it's a book])
3