For The Transit Fans: Industry Perspectives: U.S. Import Law
---
U.S. Customs and Border Protection Jeep Wrangler Rubicon
Laws regarding the importation of cars into the United States are set by the U.S. Customs and Border Protection a branch of the Department of Homeland Security.
​Overview: ​In the 1980's Mercedes Benz and other German Automakers reigned supreme, however they began to lose business due to the arrival of Japanese brands into the U.S. in the late 70's and this continued into the 80's and as we know it now well into the 90's as well. Mercedes Benz and other automakers, angered by this wave of Japanese automotive popularity in the U.S. began to lobby against new imports into the U.S. Arguing that Japanese cars were not safe for U.S. roads because the vehicles had been built to different specifications. Mercedes Benz argued they and other automakers had spent considerable amounts of money redesigning German models for Export into the U.S. and that the newly arrived Japanese manufacturers had not put in nearly as much R&D into Exporting vehicles as they had. Mercedes Benz pleaded their case before Congress and won. Rules on building cars for the U.S. market began to get stricter and this eventually led to what is now known as regional compliance.
​​Europe had long standing regulations regarding standards for cars sold there as did Japan, Australia and Germany had even more specific requirements. For the first time the U.S. would create a set standard for automobiles sold in America all automakers must comply with. However this means that certain vehicles would not be out of reach to U.S. customers now.
For an example, lets take a look at a car sold in North America but not available or legal in the U.S.
2016 SEAT Leon Cupra ST 290

SEAT (Pronounced "Say" "Yacht" = Sayacht = SEAT) is a car manufacturer based in Spain owned by the Volkswagen Group. SEAT sells cars in Mexico but not in the U.S. The Leon ST sells in Mexico for about 330,000 Mexican Pesos or $18,000 US Dollars. The Leon ST gets comparable fuel mileage to cars sold in the U.S. it also has a Euro NCAP 5 Star Safety Rating which is comparable to NHTSA U.S. 5 Star rating.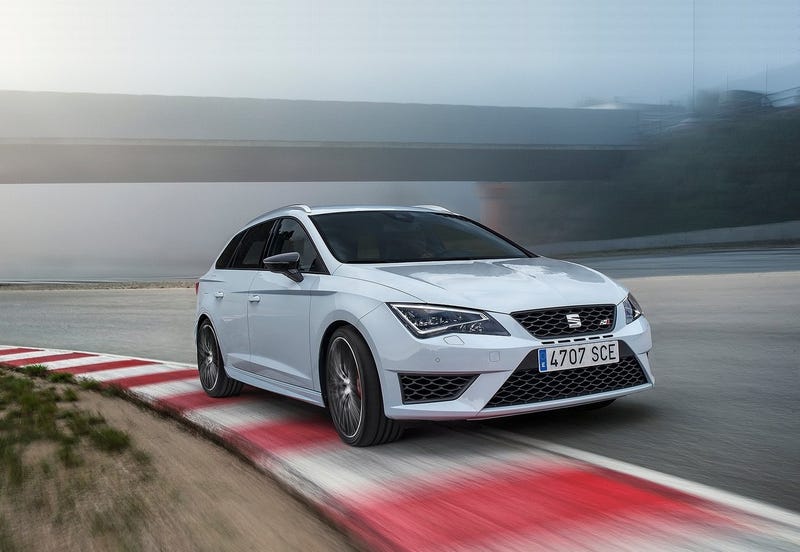 2016 SEAT Leon Cupra ST 290

The Leon ST comes with a 1.4L Volkswagen TSI Engine which puts out 150 Horsepower and is coupled to a 6 speed manual transmission. (Arguably the only unpopular feature in the U.S.) Auto DSG Transmission is available.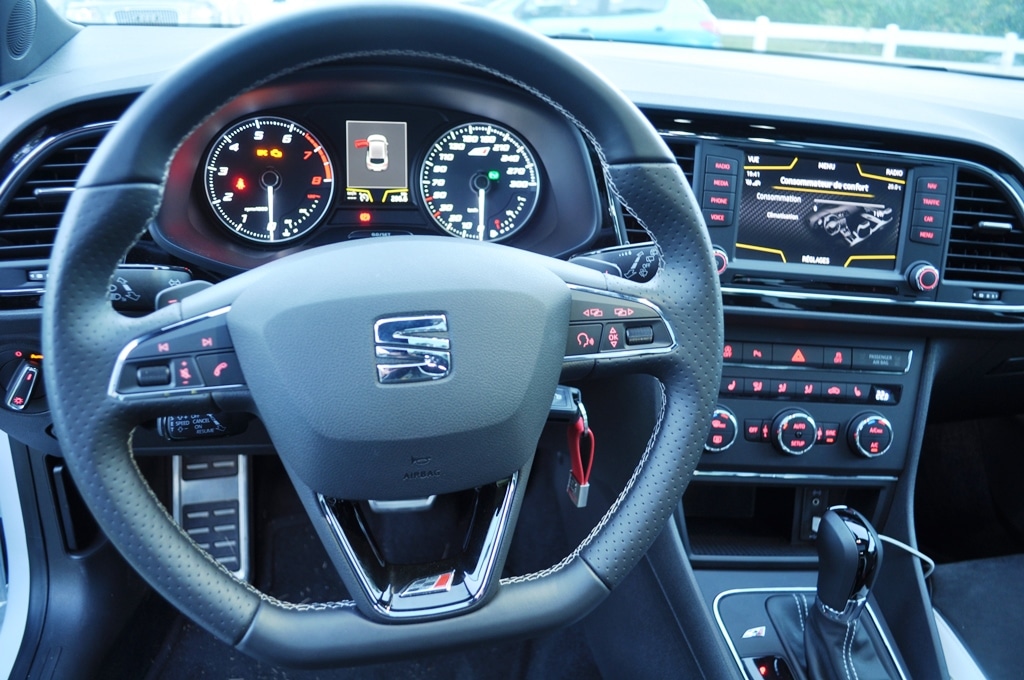 2016 SEAT Leon Cupra ST 290 Interior (DSG Automatic version)

Inside the Leon ST has many of the same standard features you would find on a comparable Volkswagen or Audi such as Bluetooth capabilities, AM/FM Radio infotainment screen, Navigation System, Voice Controls, Dual Zone Climate Controls etc.
All in All the Leon is a car you are interested in and an absolute bargain for $18,000. Its Affordable, Stylish and Economical.
Underneath this car is nearly identical to the Volkswagen Passat Wagon or Audi All Road.
Unfortunately, if you were to go to Mexico, walk into a SEAT Dealer and purchase this car, you would not be allowed to own this car in the United States...but why?
The car does not meet "exacting U.S. Safety and Emissions Standards." The U.S. has a rule about nearly everything a car must have to be legal on U.S. roads. From how high off the ground it must be, to how thick the glass on the windows must be. Even though this car you really want and can afford is safe it does not legally meet U.S. standards and cannot be imported for daily use.
z
Vehicles built to exact U.S. Standards will bear a placard carrying the VIN certifying by the Manufacturer that the vehicle is U.S. Legal. The placard will also show date of manufacture and location of manufacture. The weight of the vehicle is also declared. (GVWR = Gross Vehicle Weight Rating)

Oh dear, well ya cant get that shiny new SEAT. But what cars can you import legally into the United States? According to Customs and Border Protection, a vehicle must be 25 years old to be legally imported to the United States. This age restriction allows vehicles to enter the U.S. regardless to Safety and Emissions standards. Also cars over 20 years old can still be registered in most states as a "historic vehicle". This status allows the vehicle to be exempt from emissions testing.
25 seems like a long time but there are tons of classic Japanese and European Sports cars just right around that age now and the good news is the list of eligible cars gets larger every year.

U.S. Soldiers stationed abroad previously thought they were exempt from the rule and we rudely awaked by Customs and Border Protection. CBP issued a memo to all U.S. personnel stationed abroad that any vehicles purchased abroad which did not meet U.S. Standards or Import Requirements would not be allowed.

​How To Import: ​There are really only 2 ways to legally import a vehicle to the U.S.
Broker: ​A U.S. Customer who wants to buy a vehicle will contact a broker who then scouts auctions or lotteries filled with cars ready to leave the export country, most commonly Japan. For example, A U.S. Buyer wants a JDM Spec Nissan 300ZX. The car is fairly common and easy to find in Japan and will come with right hand drive. The Broker will find several Nissan 300ZX cars and send pictures and information to the buyer in the U.S. The Broker will have found 3, a Red one with low miles, a white one with high miles but well cared for, and a blue one which has fair mileage but is tastefully modified. The buyer will select one and the Broker will tell the Buyer how much the car will cost plus the cost of shipping. The Broker also prepares all the appropriate paperwork to ensure the transaction is legal.
The only pro to doing it this way is that is cheaper, however a major con is that all of the paperwork that must be done once the vehicle hits U.S. shores and must clear Customs must be done by you. Vehicles that arrive at customs that do not meet U.S. regulations or Import Law are seized and crushed regardless of value. Once you do clear customs it is possible but difficult to obtain a Title (proof of ownership) from your home state for your new car.

Import Dealer: ​Import Dealers are specialized dealers who have their own brokers and contacts in other countries who do the same thing except the dealer imports the cars themselves. These dealers import regularly from countries like Japan and Australia and are extremely familiar with the laws and thus more selective with the vehicles they import. This allows the customer to simply walk into the dealers showroom and select an imported car for purchase. The only con is the car may be more expensive because the dealer did all of the hard work and will charge extra in exchange.
My favorite U.S. Importer is Japanese Classics, a company based in Richmond, Virginia. They import cars from Japan and provide all necessary paperwork such as the title. They like many other Import Dealers are Bonded Importers that are registered with U.S Customs.

Other dealers specialize in Imports from Europe such as older BMWs, Land Rovers and Mercedes.
1990 Nissan Skyline R32 GTR Imported from Japan and For Sale by Japanese Classics
(R34 Skylines are still not 25 Years old and were not produced in large numbers making them very rare)
1989 Honda CRX Imported from Japan and Sold by Japanese Classics
1991 Mitsubishi Pajero Imported from Japan and Sold By Japanese Classics

Its been a dream of mine to own a GTR. An R32 can be purchased from Japanese Classics for as cheap as $12,000 and they only Import the highest quality used cars with minimal rust and scratches.
If not a GTR I'd also love to own a classic British or Aussie Land Rover Defender 110. (despite the headache they can be)
What's Your Dream Import Car? Do You Agree With The 25 Year Old Rule?
2 Used Japanese Cars Ready For a New Life Somewhere Else in the World
(Australian Broker, USS Refers to Used Car System Solutions, Not a Navy Ship lol)