Art of the Dress | Puzzle Game
Remember when I said, that the "Art of the Dress" event with @Rarity and all the amazing dresses members have drawn filled me with inspiration?
I mentioned a puzzle game (click my reply above for more information) and I kept thinking about it.
Soooo... I couldn't resist! I've drawn a concept art showing how more or less it could look like.

Disclaimer: Carousel Boutique background, all the gems, elements of harmony, spool of rainbow thread and the Rainbow's dress sketch weren't made by me. I've made hourglass, menu scroll, cursor and the rest.

Now the general idea is, that Rarity would be sewing a different dress for each level. The first levels would take place in Ponyville, where Rarity would make the dresses for the Gala, nothing fancy.
There would be some cutscenes and some other basic stuff.
With progress, she'd be moving to different places, where dresses would follow different styles.

Levels 2-X would take place in Manehattan.
Levels 3-X would take place in the Crystal Empire.
Levels 4-X would take place in Canterlot. Busy and demanding ponies - fits great for more difficult levels, that require more work in less amount of time. Rarity's Boutique would be such a great location.
(and perhaps more...)

Now talking about some inspiration from that thread and event altogether--- I'd like to mention something, that gave me that one more sparkle.

I haven't seen many -- actually I don't really recall seeing any dresses inspired by the Crystal Empire. I have to say, that @bornAgainEquestrian's dress is absolutely great.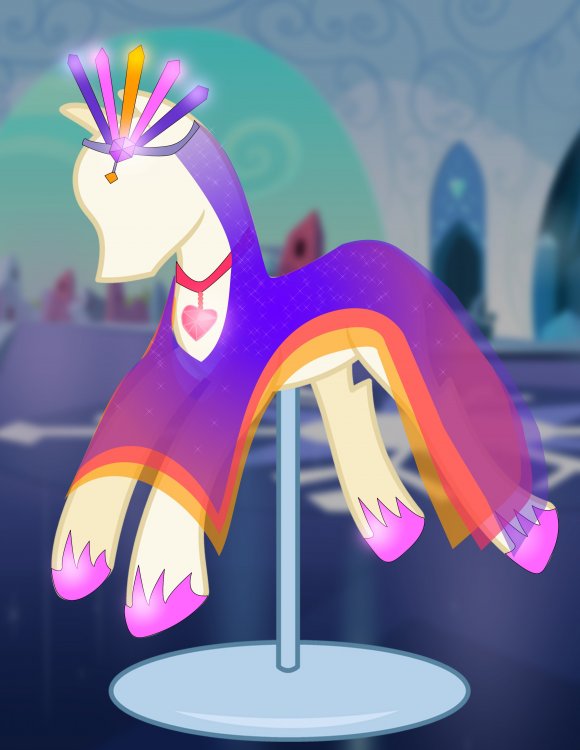 ---
As for the game itself - there would be some bonuses, that would impact the field by destroying things here and there; there would be upgrades to these to give that feeling of progress/improvement.
Also, this time I'd totally go for Full HD resolution as the default one!

 As much as I love pixel art, I think this one would perform better with high-resolution smooth art.

If I'd knew about that event sooner, perhaps (with a huuuge question mark) I'd attempt to create that game, or at least come up with a demo for that event, like it was with Twilight's day. The huuuuuge question mark is because I suspect that game would take way longer to program, so I'd probably need a lot of time. 
These events made me think of a possible idea of making a game/minigame for each pony from the mane six and I happen to have some more ideas already, but I won't reveal these yet!

The Bookhorse               Minigame            
Art of the Dress            Puzzle Game         
????????????????            ???????????         
????????????????            ???????????         
????????????????            ???????????         
- not sure yet -            -----------         
Oh I wish I wouldn't have to be bothered by my job - There are so many exciting things to do!

Either way, that's all for now;
Thank you for visiting!

8

1