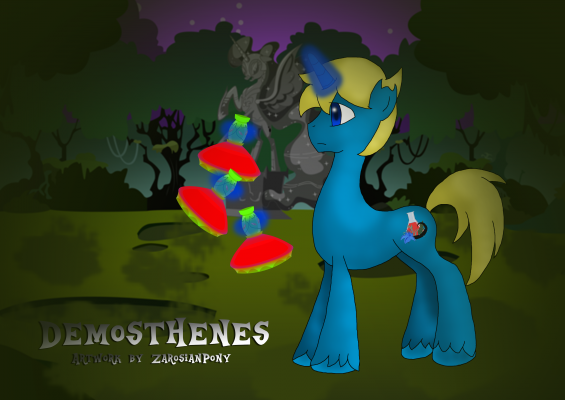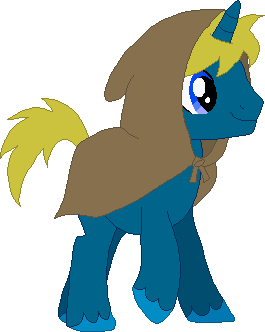 by Pripyat pony.
Name: Magic Potion
Gender: Male
Species: Unicorn
Talent: Potions, poisons, acids, bottled magic....
Personality and morals: Rather deadpan/passive, Strong follower/believer of "You reap what you sow.", Loner, Fearless, Potions=life. Doesn't have morals, makes decisions based on what is best choice for him.
Skills outside talent: fighting/combat, sensing magic, knowledge about creatures, plants and magic. other things.
Source of income: Random favors and such, studying magic too risky to be studied by more important ponies (like princesses.), selling potions etc.
Backstory in short:  Parents are Unicorn and Pegasus. Has a twin-sister, but she was adopted pretty much right away to other family so for most of his life, Potion has been unaware about this fact. His childhood was mostly normal, only differences being that he was that he was home-schooled and that his father basically brainwashed him to what he is now. In his bloodline the first unicorn born to the family gets the name Potion, and after the father dies, the son gains the name Magic in front of Potion. 
Lived his childhood in unnamed town, and there he met and became friends with Gleaming Grin and The Storyteller. After reaching the age to move out, Potion headed to Ponyville, but after few months, he came to the conclusion that it was hard to work on his potions there and moved to abandoned house that was carved into a tree deep in the Everfree forest, and lives there still. After undefined amount of years of him moving there, his father passed, thus giving him his first name, and forwarding 300-400 years old family curse to him.
During his time there lot has happened, he met his childhood friends several times, working with them in various things, but one of them (GG) was eventually taken over by sentient mask, the same mask that 300-400 years ago had caused the chain of events that had lead to the Potion's bloodline's curse. He also at some point met mysterious cat-pony hybrid, who helped him with some things and knew oddly lot. Said hybrid disappeared from his life as quickly as he had appeared, leaving Potion with only unexplained appreciation towards cats and lot of questions. At some point, Potion also met a red dragon from outside Equestria with ability to transform into a pony (Ruby Shine) but that didn't lead to anything else than he getting some dragon-based ingredients in exchange for some favors.The last noticeable event in his life was when he met his sister for the first time.
OCs who he has met but aren't in backstory:
All but Staunch Fidelity and Nada. 
Edited by Catpone Cerberus
2