Musical Manslaughter: Cover You In Mayo
---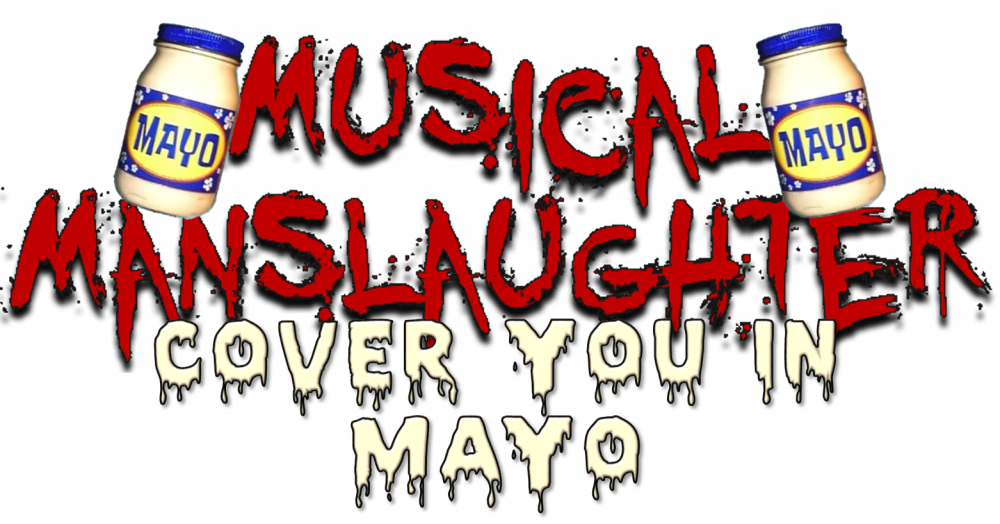 What's up, everypony? Woohoo here with another edition of Musical Manslaughter, because you can't spell 'slaughter' without 'laughter' and these songs are jokes.
Since I started MMS over a year and a half ago, I ripped apart quite a few types of songs. I've shredded multiple pop songs, a beloved folk song, a reviled metal song, two Christmas songs, a ballad, and even ranted on the things I hate about music in general. I try not to be some other music reviewers where they constantly rant on the same genres and artists. Now for the 10th I'm doing something different in MMS. I'm going to rip apart... a cover song.
How do you all feel about cover songs? My opinion? Well, it depends on the song and the artist covering it. It's a very tricky balancing act. You have to balance between making it your own and not straying too far from the original. Those who succeeded in this balancing act have created cover songs that are beloved and enjoyed just as much, if not more than the original. In fact, some covers are so well done, we don't even know it's a cover. However, when done incorrectly, the results can be quite unpleasant. Those who failed in the balancing act, either trying too hard to replicate the original or straying too far from the original, have created covers that make people beg the question...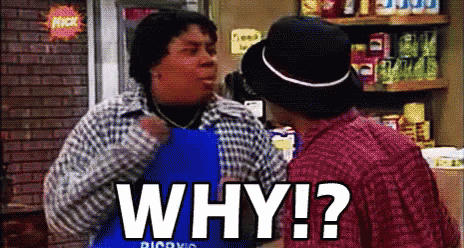 Why did you cover this song?! What's wrong with the original version?! All you did was tarnish your own reputation and butchered the song that should've been left alone! Alright, I've rambled enough on how I feel about cover songs. Now you're probably wondering what cover song am I going to shred? Well, in the last entry, I said it would be a beloved song from the 1970s... and the song is "September" by Earth, Wind, and Fire.
What can I say about this song that hasn't really been said? It's definitely on the best "feel good" songs ever. I've been listening to this song as long I could remember. Usually, I listen to it whenever I'm in a bad mood or whenever I need something upbeat and cheerly to listen to. Now what kind of cold, cruel, careless, heartless, evil person would butcher one of life's most wonderful creations?
*inhales sharply* It's... her again...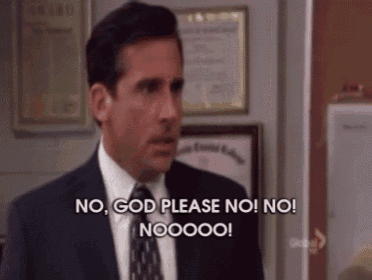 Unfortunately, yes. This cover song actually exists no matter how hard anyone can deny it. I just cannot believe that Taylor Swift, of all artists, would cover "September."  I also can't believe I'm talking about Taylor Swift again! I thought I was done with her after I abso-fuckin-lutely eviscerated "Shake It Off" on my very first entry of MMS. Oh no-no-no-no, she had to this! Ugh, I haven't even started the review and I can already feel my sanity being drained. 
Without further ado, let's break it down! 
---
Instead of breaking down the song lyric by lyric like I typically do, I'm going to compare the major aspects of both Earth, Wind, and Fire's version and Taylor Swift's version and give my impression of both. Let's start with the intros because... that's where the songs start. 

Earth Wind and Fire's version begins with its iconic and catchy bassline accompanied by fluttering synths until it crescendos with its bombastic horns. It's a simply yet effect song intro and it gets me pumped up for the rest of the song. As for Taylor Swift's version... there is no intro! She just jumps right to the damn lyrics! How am I supposed to get pumped up now?! Oh boy, and we haven't even gotten to the lyrics yet. Speaking of which, let's talk about the lyrics, starting with Earth, Wind, and Fire...
Do you remember the twenty-first night of September?
Love was changing the minds of pretenders, while chasin' the clouds awaaaaaay
Our hearts were ringin' in the key that our souls were singin'
As we danced in the night, remember how the stars stole the night awaaaaaay
Hey, hey, hey, bah-dee-yah, say do you remember?
Bah-dee-yah, dancin' in September?
Bah-dee-yah, never was a cloudy daaaaaay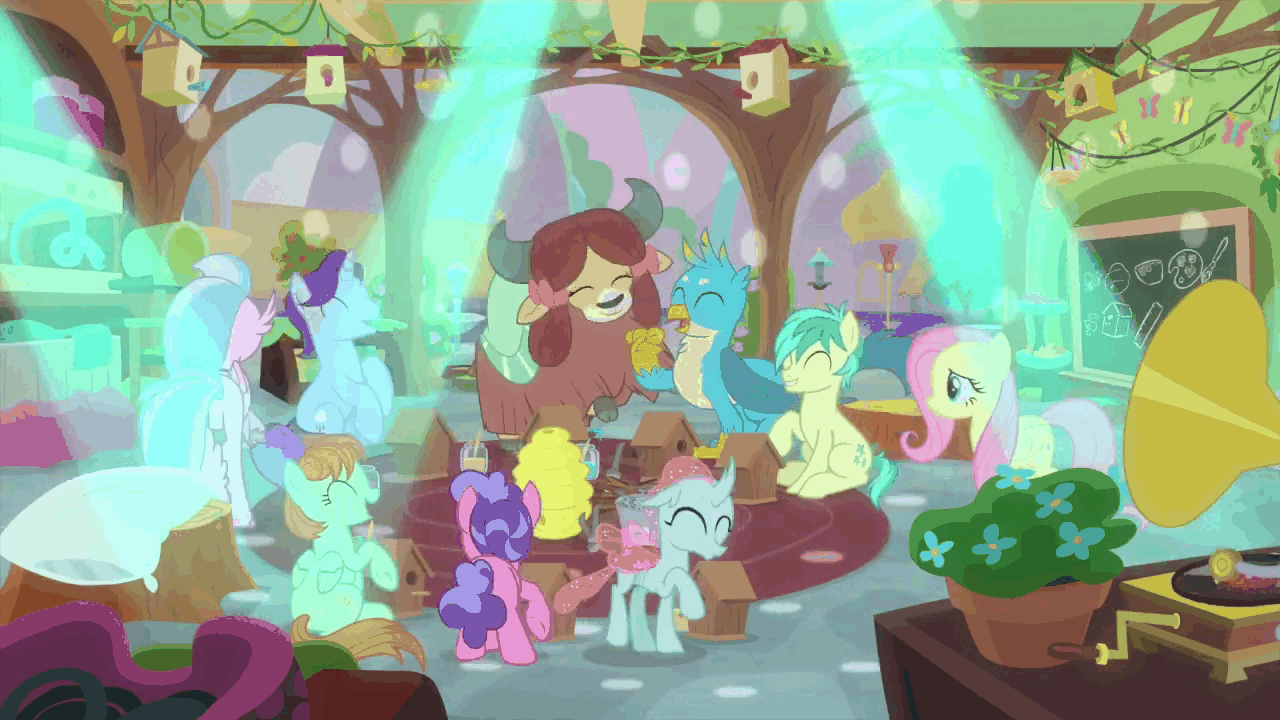 Don't these lyrics make ya feel good? Do they make you wanna dance? If you don't, then there's probably something wrong with you. What really makes these lyrics enjoyable for me is the vocal delivery. I just love hearing the enthusiasm in Maurice White's voice as well as the backup vocalists during the chorus. I can feel their energy radiating all over the song. In my opinion, energy is really vital in great pop songs. It's what makes 'em... pop! 

*sigh* Now for Taylor Swift's version...
Do you remember the twenty-eighth night of September?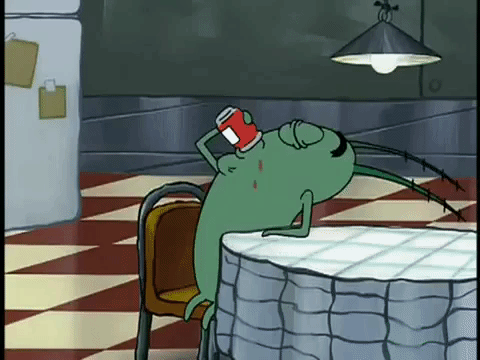 Did she... did she just... She changed the first line of the song! Why, Taylor?! I know there's no rules for covering songs but this should be one: Never change the opening line! What was the point of changing 21st to 28th? At least 21st of September has some significance being the first day of Autumn.  When you say 28th, September is practically over.  Again, what's the point?!
But that's not the part of T-Swizzle's version. Let's talk about her vocal delivery. While EW&F's version sounds really energetic, Taylor Swift's version sounds absolutely lethargic, especially during the chorus! Holy shit, she sounds like she's reading a goddamn shopping list!. Hell, Maud Pie has more excitement in her voice than Taylor Swift. I cannot believe I'm gonna say this... she sounded eons more energetic singing "Shake It Off" than on this lobotomy. I think that's the best word I can describe her performance: lobotomized.  It really sounds like she lobotomized this song. Taking away everything that made the original so great and replaced with the sound of mayonnaise!
As for the music of Taylor's version, it's nothing but a damn banjo! Why?! Why turn a funky disco song into a mopey country song?! Why is this cover song making me ask so many 'why' questions?! *sigh* I just want to say that I enjoy cross-genre covers, but if they're done right. A well known example of this is the late great Johnny Cash's cover of Nine Inch Nails' "Hurt."
All I can say about this cover is that it's absolutely magnificent. The Man in Black knew what he was doing and he truly made this song his own. Hell, even NIИ's frontman Trent Reznor admits that Cash's cover was superior to the original. Now I wonder how the members of EW&F reacted to Taylor Swift's cover. As it turns out, Allee Willis, who co-wrote the song with the late Maurice White, did comment on Swift's cover. While Willis stated that she didn't hate the cover, she described it as "lethargic as a drunk turtle dozing under a sunflower after ingesting a bottle of Valium." I guess great minds think alike.
Alright, I think it's time to wrap it up.
---
And that was Taylor Swift's cover of Earth, Wind, and Fire's "September." Do I hate this-- Why do I keep asking this question you all know I hate the song I just ripped apart?! *sigh* Let me break it down for ya.
If there was ever a list of songs that should never be covered, "September" should definitely be on that list. Remember that Powerpuff Girls episode with the evil clown that drains color with everything he touches? That's what Taylor Swift did to "September." She drained away everything vibrant and colorful about the original and left it something as vapid and soulless as mayonnaise. Maurice White must be rolling in his grave. I still cannot fathom why... why would she cover this song? Was trying to troll people? Maybe she likes the song and wanted to do her own rendition? I think it's probably the latter, even though I think her rendition sucks. When this song came out last year, the Internet (especially Twitter) went nuts, calling it one of the worst cover songs ever made. This cover is definitely one of the most unpleasant covers I have ever heard. BTW Taylor, didn't Squidward ever tell you mayonnaise is not an instrument?
Now for the final score. It didn't score as high because it wasn't overplayed. But I already heard this song twice and that's overplayed enough for me.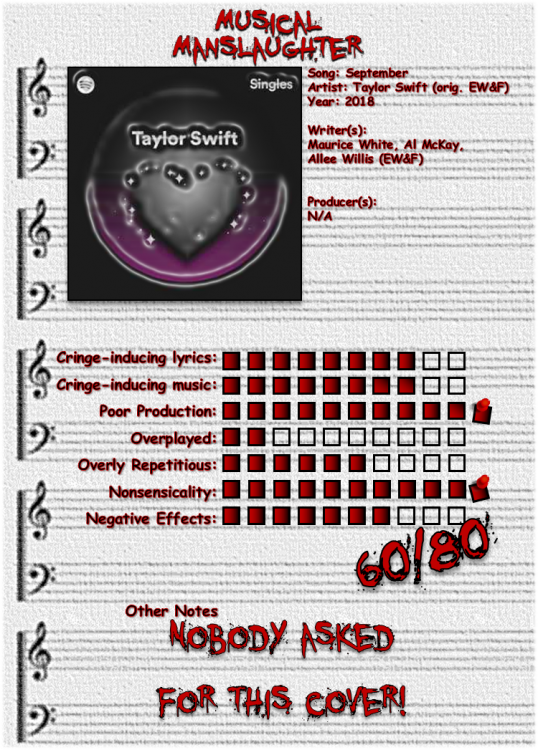 And that concludes this entry of Musical Manslaughter. How do you feel about this cover? Was I too harsh or soft? What song will I do next? Tune in next month. Same Woohoo time, same Woohoo blog! 

1