My Psychiatric Hospital Experience
---
Hello
Over recent years, I have been admitted to the adult psychiatric unit a total of four times. My first admission was in 2014, the second was in 2016, the third was in 2018, and fourth time were this year; 2018-2019 (stay was from late December to early January). I am going to share my most recent hospitalization experience with you. I want to take this blog entry as an opportunity to educate others on how psychiatric hospitals function and assist their patients. I know that there are still a few people out there who assume that all psychiatric patients are immediately put in a straight jacket and locked in a padded cell. I realize that stereotype has died down lately but I wanted to share.
On December 27th, 2018, I was feeling very depressed. A certain event triggered this intense flood of emotions. I knew that I needed help so I made my way to the nearest hospital that accepted my insurance. Before I arrived, however, I got a phone call from my father. He told me to turn around and come home immediately and questioned why I left. I told him why and he said: "You will be much safer at home than at any hospital". He didn't understand. Even so, I listened to him and came home. I didn't want an argument to ensue. I was hoping that I could sleep off my negative emotions. I was wrong, though because I felt the same the next day if not worse. There was no improvement. I went to see my psychiatrist and she recommended that I go to the hospital. She talked with my parents and they all agreed. I came home, packed my things, and my mom drove me; dropping me off at the ER.
I told the receptionist what my reason for arriving was. They took my vitals and then I was escorted to a temporary room where they took blood to run lab work. I was then escorted to another room where they took my clothes and belongings away...except for my phone. The nurse forgot to take it! (For those of you who didn't know, all psychiatric hospitals cease your cell phone early on). Because of the forgetfulness, I was able to talk to my friends through Facebook messenger to help keep my mind busy. A crisis intervention worker talked to me and asked me all sorts of questions. This was my fourth run there so I knew what was going to be asked. I told her that I had intent of suicide and a plan. She relayed all of the information to a psychiatrist to determine if I should be admitted or not. I was in that room for nearly eight hours. That's how long it took for things to be decided! That's actually typical, though because I once spent ten hours waiting.
I was told that the psychiatric unit was full and that I would have to be transported by ambulance to a sister hospital. The paramedics drove me there, which took about one hour (I still had my phone, mind you). I arrived at the new hospital and it was now rocking 6:00am. I was brought to their psychiatric floor and was passed onto a nurse that worked on that same floor.
She sat me down and went through the rules with me.
Breakfast started at 7:30am 
Medications at 9:00am
Group therapy at 10:00am
Lunch at 11:00am
Group therapy again at 1:00pm
Contraband check at 2:00pm
Free time until 5:00pm (dinner)
Visiting from 6:00pm-8:00pm
Free time until 10:00pm (lights out)
Unlike the hospital I was originally brought to and had my first three stays at, this location didn't allow wearing of civilian clothing. Patients were required to wear light green scrubs.

The nurses were not that very friendly at this hospital. They were very slow when it came to needs/requests of a patient. I was having withdrawals from stopping my previous medications and I felt very sick. I told a nurse this and they didn't get me an anti nausea medications until roughly six hours later.
My third or fourth day in, I had a breakdown. I was very upset and was given a sedative to settle down. I met with my assigned psychiatrist that same day and he took me off all of my original medications with the exception of one and put me on all new ones:
Seroquel 300mg, Lexapro 10mg, and Depakote 1,000mg.
I noticed an improvement right away. I felt better! The psychiatrist told me that I was the worst case of self injury he had seen in awhile... My wounds had to be documented with photos to ensure I didn't hurt myself again during my stay. The beds in the psych ward are not comfortable. The blankets generally have the texture of a beach towel, the bed sheets are a sort of plastic, and the pillows are tiny. Not only did they not allow for regular clothes, but also my face wash because it contains alcohol. Clothing with strings are also disallowed. I refused to shower there because the shower did not appear to be cleaned/disinfected properly. I went five days without showering. I know that's gross but I'd rather not shower than use one that was used by strangers.
My dad actually came to visit me one day. This was surprising because he was not happy that I was admitted. When he came to see me, he was supportive and happy to see me. It was nice even though he only stayed for 45 minutes.
My bathroom was incredibly small, as they usually are, but I barely had any room to put my tooth brush down on the sink. I had the option to put it on the floor or the toilet seat. In regards to the sink, you had to keep constant pressure on a button for the water to flow. It made brushing my teeth very difficult. They make these rooms as safe as possible!
I usually make friends when I'm on that floor but most of the patients were older men. I talked to them a little bit not much. We did watch a movie together though. Everyone had to agree on a channel, by the way. You can't just watch whatever you want.
When I took my new medication, I crashed hard. I had never felt so tired; not in my life. I was so sedated the next day. My speech was slurred, my vision was blurry, I walked slow, my reaction time was altered, I forgot where I was, and I had no appetite. I was so out of it! I wanted to sleep but I was forced to eat and attend group therapy and I was upset because they didn't seem to understand how exhausted I was. Thankfully, the sedation wore off by the next day. My body got used to the medicines pretty quick. 
Blood samples are taken from you daily and he food has always pretty decent and you had a lot of options from a menu.
 I was discharged on January 5th, 2019.
Psychiatric units are only meant to stabilize you; not necessarily treat. So I was still pretty unhinged at this time. As part of my discharge plan, I was forced to attend an outpatient group therapy program Monday-Friday from 8:30am-3:00pm to become mentally healthy again. All patients must go under a 72 hour suicide watch once home as well.
Today, I am in a much better position. I have a brand new, positive outlook on life. I have more motivation than ever. I plan on continuing to improve my life by attending regular therapy. Not everyone who goes to a psychiatric hospital is insane. Sometimes, people just need to be put in a safe place until intense emotions subside. They will probably never go to another hospital again.
Example of rooms: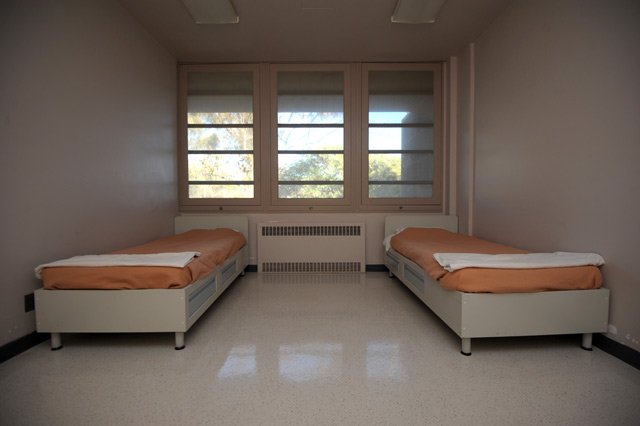 Example of the rest of the floor:
7

2