Why Della Duck Is Best Duck, Formerly: How I Became a Fan of the DuckTales Reboot
---
Because @TotallyNyx said so and I can't think of a reason why I would disagree with him. 
In all seriousness, if you had asked me a few months ago if I would be watching and enjoying DuckTales 2017 I would've said "Probably not." because I didn't really enjoy the first few episodes very much plus I was comparing David Tennant's performance as Scrooge McDuck to the incomparable Alan Young who had been "my"            Scrooge McDuck for what feels like forever.
I owe my DuckTales 2017 fandom to @ScaryStorm because of his DuckTales avatars and @Dark Qiviut because I probably wouldn't have given the show another
chance if it weren't for his status updates where he would post his thoughts about the latest episodes.
So, I gathered my nerve and went before The Great Muskox asking him if he thought I would this reboot of a show that I had enjoyed in the past. 
As I "stood" before his greatness, my hands sweating and knees shaking I *think* I said: "Oh, Great Muskox I have traveled a great distance to seek your advice." to which
he responded "What're you doing Sparklefan?" with a look of either respect or confusion. (I couldn't tell because the light emanating from him was in my eyes.

)
"I have come to ask your opinion Wise One...I would've asked @TheAnimationFanatic but I think they're busy." 

"ARE YOU TELLING ME THAT I WAS YOUR SECOND CHOICE!?" The muskox bellowed, fire in his eyes and on his breath. 

"Third actually. Stormfury's not here." I blushed 

 "So, what're your thought's on the DuckTales reboot?" 
"Eh, it's ok," The Great Muskox shrugged "You might wanna try it if you have the time'er whatever."

Elated I bowed to Dark Qiviut & proceeded to lay my offering of Sprite and Pop Rocks at his hooves. 

Fast forward a little bit and I'm (Probably) the biggest Della Duck fan on MLP Forums!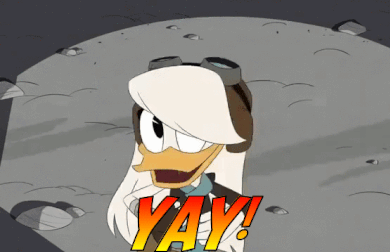 Thank You *so* much for taking the time to read this!  

Author's Note: Parts of this may be exaggerated for comedic effect. 

4