Breaking News: User Emerald Heart is "Super cozy right now"
---
  In this unbelievable exclusive edition of Harmonic's Inside Scoop, we look at the biggest scandal to rattle the MLP forums for years. In a recent status update, long time user and "cute pastel pony" Emerald Heart has reported that they are feeling super cozy.
  Now I know what you're thinking: "Harmy, that's just insane. There's no way Emerald Heart is feeling cozy", and were I myself in your shoes (or horse shoes perhaps) I too would be questioning the validity of this claim. But I am no lesser reporter, and I have indeed brought photographic evidence of this shocking fact. My heart nearly stopped beating in my chest when I read this. But then, something else popped into my mind. "How do we know Emerald Heart is actually super cozy?"
  I am currently investigating with the help of local authorities to determine whether Emerald Heart is actually super cozy, or is perhaps maybe simply very or extremely cozy.
  Stay tuned for new developments as this story progresses.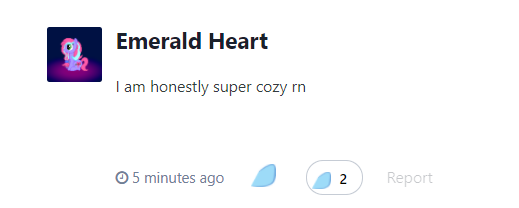 Edited by Harmonic Revelations