Gunter glieben glauchen globen, Woohoo here once again, not torn into pieces but continuing my project of rewatching and reviewing every episode of Hey Arnold. Last time, I reviewed Season 1 of the show and held up extremely well, perhaps a little too well. That made me worry that the following seasons would be inferior. Now that I've got that out of the way, we have now reached the second season of Hey Arnold, which originally aired from September 29 to October 27, 1997 (although the Season 1 holdovers were aired as late as December.) This season is much shorter, only 14 episodes consisting of 26 11-minute segments and one 22-minute special, as I already reviewed the S1 holdovers. Alright, enough of my rambling...
As with my last entry, I will be rating the episodes either Bold, Good, Meh, Bad, and Raspberry. Will S2 be just as good as S1? Will it be worth a deuce? Let's dive right in...
---

27a. The Big Scoop: Good | 27b. Harold's Kitty: Good
28a. Arnold Saves Sid: Bad | 28b. Hookey: Meh
29a. Save the Tree: Bold | 29b. New Teacher: Meh
30a. Ransom: Good | 30b. Ms. Perfect: Bold
31a. Monkey Business: Good | 31b. Big Caesar: Good
32a. The High Life: Good | 32b. Best Friends: Good
33a. Longest Monday: Raspberry | 33b. Eugene's Pet: Good
34a. Mudbowl: Bold | 34b. Gerald Moves Out: Good
35a. Freeze Frame: Bold | 35b. Phoebe Cheats:  Bold
36a. Helga's Love Potion: Meh | 36b. Gerald's Secret: Bold
37a. Steely Phil: Bold | 37b. Quantity Time: Bold
38a. Eating Contest: Bold | 38b. Rhonda's Glasses: Bold
39a. Eugene Goes Bad: Bold | 39b. What's Opera, Arnold?: Bold
40s. Arnold's Halloween: Bold
---
...And that was every episode of Hey Arnold Season 2 reviewed. Let's look at the chart.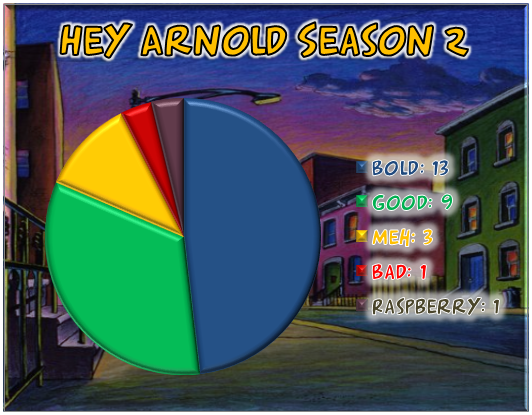 After watching Season 1, I was a little worried that Season 2 and every season after would be inferior to S1. Turns out, I was wrong... mostly. S2 retained a lot of the boldness from S1 despite being a much shorter season. One major thing S2 improved upon from S1 is the animation as it's much more consistent and much less rough looking. (S3 would also have the same animation as well.) However, this season has the dishonorable distinction of having the first episode to earn the Raspberry rating. Just a little fair warning, every season after S2 will have at least one Raspberry rated episode. 
As for this season's rating, I've debated on this for a bit. Even though it's a step down from S1, S2 just barely gets a BOLD Season rating.
Now for my Top 5 Episodes. Just like S1, it was really hard to fill the slots, even with fewer episodes...
Arnold's Halloween
Steely Phil

Eugene Goes Bad

Freeze Frame

Mudbowl
Now for my "Bottom" 5 Episodes. This was a whole lot easier since only five episodes that rated below Good...
Longest Monday
Arnold Saves Sid

Hookey

New Teacher

Helga's Love Potion
That concludes my review of Hey Arnold Season 2. At the time of this blog's release, I've already finished Hey Arnold Season 3 and just started watching Season 4.  Until next time, this is Woohoo signing off... or is it out? Will I ever know the difference? Anyways, enjoy your Halloween.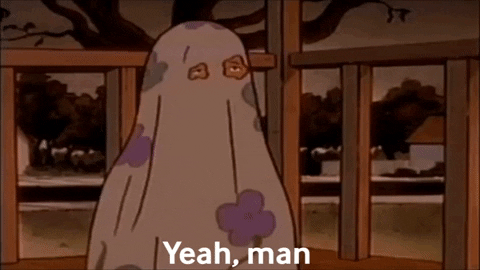 Edited by Woohoo
2