Heeeeeeere's... Woohoo! I'm back once again with my continuing project of rewatching and reviewing every episode of Hey Arnold. Welp, we're halfway there... or three-fifths there. While I was rewatching Season 2, I was worried that any subsequent season after the first would be inferior. Turns out I was mostly wrong. Not long after rewatching Season 2, I started rewatching Season 3, which originally aired from September 1998 to March 1999 (although the season finale didn't air until Season 5. Again, WTF Nick?) This season consists of 20 episodes of 34 11-minute segments and 3 22-minute specials.
As with my last entries, I will be rating the episodes either Bold, Good, Meh, Bad, and Raspberry. Will S3 be bold like S1 and S2? Let's dive right in...
---

41a. The Aptitude Test: Good | 41b. Oskar Gets a Job: Meh
42a. Curly Snaps: Bold | 42b. Pre-Teen Scream: Good
43a. Stinky Goes Hollywood: Bold | 43b. Olga Gets Engaged: Meh
44a. Crabby Author: Good | 44b. Rich Kid: Good
45a. Helga Blabs It All: Bold | 45b. Harold the Butcher: Good
46a. Arnold Betrays Iggy: Raspberry | 46b. Helga and the Nanny: Meh
47a. Dangerous Lumber: Bold | 47b. Mr. Hyunh Goes Country: Bold
48a. Arnold's Room: Meh | 48b. Helga vs Big Patty: Good
49a. Career Day: Good | 49b. Hey Harold!:  Bold
50a. Casa Paradiso: Meh | 50b. Gerald's Tonsils: Good
51a. Phoebe Takes the Fall: Bold | 51b. The Pig War: Bold
52a. Best Man: Good | 52b. Cool Party: Bold
53a. Sid's Revenge: Bad | 53b. Roller Coaster: Good
54a. Grandpa's Birthday: Good | 54b. Road Trip: Good
55a. Arnold and Lila: Bad | 55b. Grand Prix: Good
56s. Arnold's Thanksgiving: Bold
57a. Girl Trouble: Bad | 57b. School Dance: Meh
58a. Helga's Show: Bad | 58b. The Flood: Bold
59s. School Play: Bold
60s.* Parents Day: Bold
---
...And that was every episode of Hey Arnold Season 3 reviewed. Let's take a gander at the chart.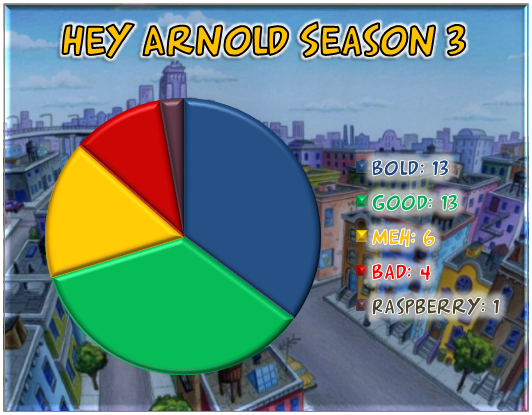 *sigh* Looks like Season 3 wasn't as bold as I thought it would be, not saying S3 was terrible though as it had many fantastic episodes. I also noticed the chart looks like a crooked peace symbol with the Bold and Good making up the "top parts." Much like S2, S3 only had one Raspberry episode (and probably the most infamous in the whole show.) However, the Meh and Bad episodes have increased from S2. It kinda makes me fear for Seasons 4 and 5. Alright, I've rambled enough. Time to give this season a rating.
What would I rate Hey Arnold Season 3? Even though it lost some boldness, it's still a very GOOD season.
Now onto my Top 5 episodes of this season. Once again, it's hard to choose.
 Parents Day
 Helga Blabs It All
 Dangerous Lumber
 Curly Snaps
 Hey Harold!  
Now for my Bottom 5, which is much easier since they episodes here ranked Bad or lower.
 Arnold Betrays Iggy
 Girl Trouble
 Sid's Revenge
 Helga's Show
 Arnold & Lila
That brings us to the end of my review of Hey Arnold Season 3. Wow, I can't believe how fast I'm going through this. At the time of this blog's release, I've already finished watching Season 4 and I'm trying really hard to savor Season 5. This is Woohoo signing off or signing out. I still don't know the difference. -_-
Edited by Woohoo
4