And his name is John-- I mean Woohoo here continuing my project of rewatching and reviewing every episode of Hey Arnold. We're getting close to the end, folks. After finishing Season 3 did I start Season 4, which originally aired from March 1999 to June 2000 (mostly due to a few holdouts airing in S5.) Much like Season 3, S4 has 20 episodes but broken down to 32 11-minute segments and 4 22-minute specials. Also during this season and the next one, the animation was changed to being digitally painted (much like a lot of shows during the late '90s-early '00s.)
As with my last entries, I will be rating the episodes either... Wait, you should know the rating system by now! Sheesh! For many fans, S4 is viewed as the "worst" season of the show so I myself have some low expectations. Will S4 be as bad as most people make it out to be? Let's jump right in...
---

61a. Eugene's Birthday: Meh | 61b. Stinky's Pumpkin: Good
62a. Dinner for Four: Meh | 62b. Phoebe Skips: Bad
63a. Full Moon: Raspberry | 63b. Student Teacher: Raspberry
64a. Big Gino: Bad | 64b. Jamie O in Love: Meh
65a. The Beeper Queen: Bold | 65b. Oskar Can't Read?: Good
66a. Headless Cabbie: Bold | 66b. Friday the 13th: Meh
67a. Helga's Parrot: Good | 67b. Chocolate Turtles: Bad
68a. Love and Cheese: Raspberry | 68b. Weighing Harold: Bold
69a. It Girl: Good | 69b. Deconstructing Arnold:  Bad
70a. Grudge Match: Bold | 70b. Polishing Rhonda: Bold
71s. Veterans Day: Bold
72a. Back to School: Meh | 72b. Egg Story: Bad
73a. Weird Cousin: Bad | 73b. Baby Oskar: Raspberry
74a. Helga Sleepwalks: Good | 74b. Fighting Families: Good
75a.* Monkeyman!: Meh | 75b.* Buses, Bikes, and Subways: Bold
76a. Grandpa's Sister: Good | 76b. Synchronized Swimming: Good 
77a.* Helga's Masquerade: Meh | 77b.* Mr. Green Runs: Bold
78s. Helga on the Couch: Bold
79s. Dino Checks Out: Bold
80s.* Summer Love: Bold
---
...And that was every episode of Hey Arnold Season 4. Bring up the chart!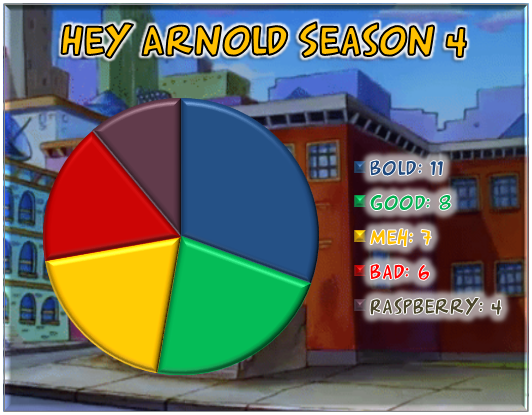 *sigh... again* Oh have the mighty have fallen... maybe that's a stretch. Season 4 is definitely a very... mixed season. While half of the season was made up of Bold and Good episodes, over a quarter of the season made of Bad and a whopping FOUR Raspberry episodes, more than S2 and S3 combined! Also, during this season is when the show's formula starts getting a little stale. Hell, a few episodes were just rehashes of ones in previous seasons, a practice that some shows do that I absolute hate (though it's not as bad here as in MLP's later seasons.) Now with the negative stuff aside, Season 4 produced quite a few fantastic episodes, including four stellar specials. 
Now for S4's rating. I've pondered about this for a bit and, even though the Bold and Good just barely outnumber the rest, the four Raspberry episodes unfortunately give Season 4 a rating of a MEH season.
Onto my Top 5 for this season. I really didn't want to have all the specials take up nearly every slow so I tried really hard to diversify...
 Helga on the Couch
 Veterans Day
 Headless Cabbie
 Buses, Bikes, and Subways
 Grudge Match
Now for the Bottom 5, which was much easier as nearly every entry was a Raspberry episode...
 Student Teacher

 Full Moon

 Baby Oskar

 Love and Cheese

 

Egg Story
That pretty much wraps up my review of Hey Arnold Season 4. I can't believe I'm almost to the end. If you're wondering about my rewatch progress, I am almost finished with Season 5 and already watched the 2002 theatrical film. This is Woohoo... doing something involving exiting. Enjoy your Thanksgiving.
Edited by Woohoo
2