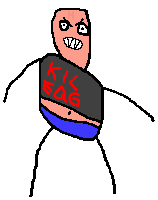 I THINK IT RELLY SUX N STUF BCUZ ITS DUMMM ITS BEN A LONGAS TIM SINC I LAST MADE 1 OF DOSE BLOG ETREIS SO IM DOIN IT NWO BCUS DIS SHO IS GUNNA BE DA END OF DA FANDOM I MENE LOOK AT AL DA DARMA ITS CAUSIN AND 4 SUM RESIN IM ADDIN 2 IT BY MAKIN DIS BUT O WEL ITS EQESTSO GRILS FALT B/C IT DONT EVEN EXITS YET RELLY N ITS KILIN KITENS IN PUPEYS
...
Now that you survived that comedy bit, my real thoughts?
Where the hell is all this "Love and Tolerance" the fandom always talks about? Both sides of the argument are at each other's throats about the whole thing when it isn't even out yet. Why not just simmer the hell down?
I'm not gonna take a side in it, really, because I don't think the trailer looked horrible, but then again I know how horribly trailers can misrepresent the product they're trying to advertise, for better or worse.
If the fandom doesn't like it... so? It's not for the fandom. It's for little girls. Far too much the fandom has been forgetting that we're not the target audience, of both EQG and FiM. The show is targeted primarily at young girls. We just happen to watch it. You should expect girly things from it from time to time. If you want some kind of fantasy epic, go watch a fantasy epic. Don't expect it out of something that isn't a fantasy epic.
So, here's my stance on the whole mess. Take a chill pill.
7