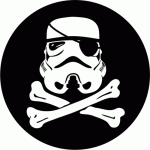 "It's not me, it's just my mind."
-- George Harrison, Live Concert for Japan.
I love it how everybody on the forums manages to take time out of their day to wish a happy celebration to an appropriate recipient. Even if it's just a auto-sent message from Chigens and Kay (XD)
But somehow, I've managed to go against everyone's wishes. I truly screwed myself over this time.
My family was there, they gave me presents. The cake sat on the table with all of it's overly sugared glory, waiting to attack me with diabetes on the first bite. My mother had the camera out, my brother looked bored, and my father handed me the bag. It was a bag with Star Wars print on the outside. They sure do know what I like

Then I opened the present bag. I pulled tissue paper out from the bag, and flinging it to the side with the same amount grace I use when I flop into bed after a long day: none at all. What I revealed was what most people might consider unsatisfactory. Most teenagers get cars for their 16th birthday. I got a pack of Star Wars gummies from 2010, and a nice, blue mousepad. I was disappointed but I didn't show it.
This is what shocked me. Not the fact that I got less than perfect gifts, but what I thought about it. I should have been appreciative for what they got me. I should have loved those stale treats and adored the other gift along with the cake. Instead, my first reaction was "Dammit."
What have I become?
I have never had a happy birthday before. Something always seems to go wrong. This was by far the worst however, as I realized that I am transforming into some sort of greed ridden monster. What the hell was I expecting? Some sort of mansion? A stack of bills? Why would I expect anything in the first place?
So I ruined my own birthday, or at least my subconscious self did. Should I blame it on human nature? No, although humans are cruel, they are only natured from their own environment. And I have had many wonderful friends in my life who influenced me in amazing ways. Who is there to blame but myself.
TL;DR
The thing I am getting to is that I am afraid of myself. Afraid of the way I think and why I think that way. Why do I behave this way? Why am I an unappreciative monster?