Need Feedback on Newest OC: Lack Luster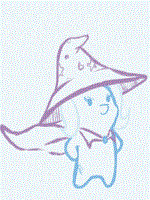 Name: Lack Luster
Gender: Female
Race: Pegasus (Broken-looking horn caused by genetic disorder)
Age: Teenage
Backstory:
Lack Luster was born as a mostly normal (But blind) Pegasus to her father, mother, and two older sisters. However, as she grew older it was discovered that she has a rare disorder. The disorder has several effects on her, for example, she grew a partial (Non-functioning) horn, was born blind, and did not develop a cutie mark. Doctors estimated the disorder would kill her very early on, however, so far she has survived, against all odds.
She is dependent on other ponies due to her inability to see, and cannot and will not develop a cutie mark. She currently lives with her family in a small house, where she is taken care of. She has gained a slight ability to know about her surroundings, and for this reason is able to navigate around with only minor difficulty.
She has no idea what her true purpose is, and spends many nights simply wishing she could look up at the stars and see the beauty therein. She spends many nights trying to get her horn to function, even though the doctors told her that any attempts to do so would be completely futile.
She often vents about her frustration to her family, but there's not really any way they know or feel they can help her.
Personality:
Lack Luster remains optimistic and hopeful, as those are the only two things that are impossible to be taken away from her. She tries to make other ponies smile, even if she is unsure what a smile actually looks like. She remains extroverted, or at least tries to, as most other ponies avoid her. Her circle of friends is rather small but she feels that it's enough.
She does not like to meet new ponies as most ponies she meets shun her. If she does find a stranger that doesn't run away or poke fun at her, she is very open to becoming friends with them.
She is very philosophical and often ponders about the meaning behind things that happen in life, such as why she is in such a predicament. She values beauty on the inside, as internal beauty is the only beauty she has ever known. For this reason, she does not judge other ponies based on anything other than their deeds and personality, as those are the only things she can really be certain about.
She has confidence in herself, even if she really doesn't have (Or at least know if she has) any talents, she feels that the fact she has survived this long is a miraculous event in it's own right.
3