Flash Puppet Rigs - ALL VERSIONS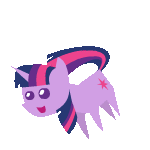 I know that not all of us animators have Adobe Flash CS6, so, being the very kind person I am(don't laugh at me), I've taken it upon myself to convert ALL of the Double Rainboom Pony Puppets, plus Celestia and Luna, to the Flash 8 version! Which basically means anyone with any version of Adobe Flash can animate with them!
I went through a lot of trouble downloading all of the trial versions of Adobe Flash to accomplish this, so I hope this helps some potential animators!

The puppets include:
Twilight Sparkle
Rarity
Applejack
Pinkie Pie
Rainbow Dash
Fluttershy
Spike
Pointy Ponies/BBBFF Style Ponies
Applebloom
Scootaloo
Sweetie Belle
Princess Celestia
Princess Luna
Derpy Hooves
Lyra Heartstrings
Bon Bon
Vinyl Scratch
Doctor Whooves
Roids Rage
Colgate
Berry Punch

That's 21 different puppets, folks. AKA a lot of time taken out of my life. x-x It was worth it, though.
4