Citrus commands you to go see Frozen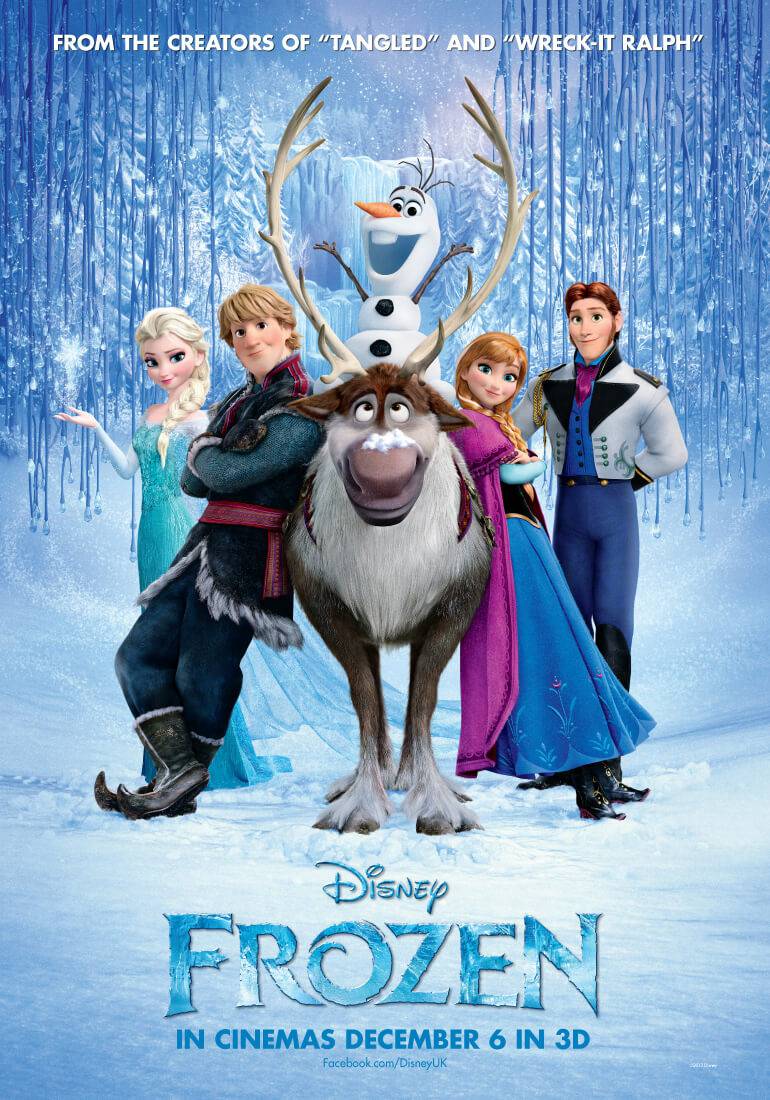 Please ignore the Dreamworks Face.
GO.
NOW.
GET IN YOUR AUTOMOBILE, GO TO THE MULTIPLEX, ACQUIRE AN ENTRY VOUCHER, SIT YOUR BUTT DOWN, AND ENJOY THE BEST DAMN MOVIE DISNEY HAS MADE IN LIKE FOREVER.
Bolt was pretty decent, Princess and the Frog was flawed but also pretty good, Tangled was really good, Wreck-it-Ralph was great, and this...
It's...
It's...
Yes. Magic.
For anybody who's been hoping that Disney would truly go back to the glory days of the Renaissance, this is the closest its come in over a decade. Maybe I'm over-blowing how great it is, but if anything, that's an indication of how excited this movie made me, and it's only getting better the more I think about it.
I know, I know, absolutely nothing in the commercials or trailers has indicated anything really great. "What," you snarl, "that stupid-looking movie with the obnoxious snowman guy? Why would I want to watch that, Citrus? You have failed me yet again!" But I assure you, your majesty, it really is much more than some pandering kiddie-flick. It's actually quite smart. Like, genius. Subversive, even. Like, it's gonna hit you like a hurricane five different ways past Sunday. Whatever that means.
If it sounds like I'm being ambiguous, it's because I totally am and you have fallen right into my trap. I really don't want to give away everything that makes this movie genius, so both because it's best you go in blind and because I am lazy, imma just gush for a minute or two.
7 FREAKING REASONS FROZEN IS FREAKING GREAT.
1. The voice cast is marvelous and lively, especially Kristen Bell and Idina Menzel as the lead sisters. Menzel's experience as the misunderstood Elphaba in Wicked comes in handy as lonely-princess-with-supernatural-powers-turned-badass-snow-queen Elsa.
2. Like I said, subversive as hell. The "love at first sight" and subsequent one-day courtship that usually appears in Disney movies is condemned and mocked by several characters (and it's actually what sets off the main conflict in the movie), the main relationship is between siblings and not a couple, the Disney trope that deems all queens be evil is played with, the absence of the parents that we always see in these films actually takes a toll the main characters, and the comic relief character is almost a tragic figure.
3. That said, it still balances that line between taking a critical eye to the tropes of the past and still displaying a genuine love for the Disney canon and all the fluff that comes with it, something most recent fairy tale (if you can call them that) movies have a hard time doing for some reason.
4. It's expertly scripted and paced, juggling several themes, introducing characters and ideas, and moving the plot along all at once, and it doesn't even break a sweat. Me thinks some of Pixar's sorcery has rubbed off on Disney.
5. The musical numbers are absolutely phenomenal. The central ballad, "Let it Go", can stand toe-to-toe with anything from the Renaissance. I'm listening to it right now.
6. It's the type of visual treat that only Disney could create. They get a lot of millage out of the ice powers and all the fantastic imagery they result in.
7. Even Olaf the Snowman, the obvious comic relief everyone thought was gonna be the worst thing ever, is kind of great. The movie knows when it's appropriate to whip him out for a healthy laugh and when to restrain him and let the drama happen. He's genuinely likeable (thanks in no small part to Book of Mormon's Josh Gad's performance), and his lack of understanding of what freeing the land from winter and bringing back Summer will mean for him adds an unusual layer of sadness to his character. The movie mostly plays it for laughs, but it's there, and it becomes quite poignant in the third act.
Just to be clear, it's not entirely perfect. Maybe the songs could have been paced a bit better (like most Disney movies, the first half is flooded with music while they become more scarce in the second half), and I think the climatic scene could have used just a wee bit more umph (though it should be noted that there is still a considerable amount of umph). While the movie does a great job of reinventing the Disney Princess movie, if you have a genuine problem with Disney fluffiness and magic in general, than you might not be all too into this. Then again, I'm posting this on MLP Forums, and I'm guessing most of you probably don't have a problem with that.
So yeah, Frozen is great. Really, truly, beautifully great. Really hope this is an indication that Disney is entering a new golden age.
Everyone go see it.
NOW.
It gets a 9/10.
4