Why do people feel the need to express their opinion so bluntly and openly? If you are an atheist great im happy for you, if you're a republican, great im happy for you. Yelling about how much you cant stand gay marriage, and about how Obama is ruining the nation is so old and annoying. We live in a modern society and in a modern society there are certain things people choose not to talk about.
Politics, Sexuality, Religion, and other persona beleifs are subjective. Everyones is different. Ranting about that stuff is'nt going to make people see your point it is simply going to make them argue their point to you. I know im being hypocritical by making this blog about it but honestly I know im not the only one.
My moms used to tell me something every day before I went to school.
"Remember. Religion, and politics are forbidden topics. Aint' no one gonna agree on everything you say so dont force people to! Let them have their opinions and you keep yours..."
Now isnt that that the truth! When I was six years old I never appreciated these wise things my mom used to tell me. Now here I am almost 15 years old and Im throwing myself into every political disagreemnt there is. Atleast I have managed to stay away from religion as much as possible though.
Also the by far STUPIDEST thing I see now a days is when people openly rant and rave about LGBT marriage and other LGBT subjects. Why do you care what two men or two women do? Same thing with abortion why should you give a damn if a woman doesnt want a baby? Its not your decision so just chill breh. Love and tolerance remember? I know im not following that myself but some of the people are saying real nasty, spiteful shit to people because of their beleifs. L&T

Also heres the picture of the post! This was made by @Mayuen, She created this amazing vector out of an original Fluttermac pic. Go give her all your bro-hoofs cuz you know she deserves them! She even got my OCs amazing Tats!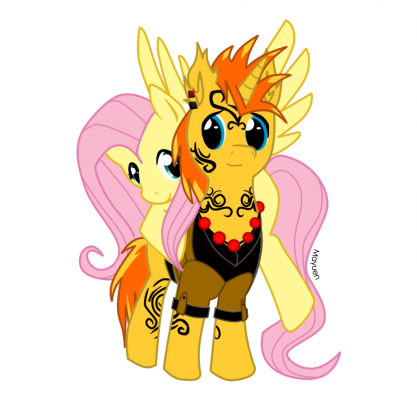 2