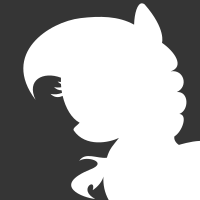 Content Count

23

Joined

Last visited
About Embers
Rank

PARTY!

Birthday

1994-03-26
Contact Methods
YouTube

thegandpt

Steam ID

pspphil
Profile Information
Gender

Not Telling

Location

UK

Interests

MLP:FiM, Web & Graphic Design, PC Gaming, House/Trance Music
Thought to add my TV as a third monitor which will be dedicated to watching ponies on-demand! The two main displays cycle between each of the Mane 6 with their Gala portraits while my TV stays on this awesome typography wallpaper.

I typed the domain and struck gold.

Steam: pspphil (Almost always online) Xbox Live: ZombiePhil (Rarely online) PSN: Zombie_Phil (Close-to-never online) Mostly play: Garry's Mod, Team Fortress 2, Left 4 Dead 2

Don't get me wrong, I love it's charm now... its just my initial reaction, and the confusion that followed.

I found it a charming episode to watch. I love it! The only thing I ever really cringed at was the start of the intro the first time I watched episode 1.