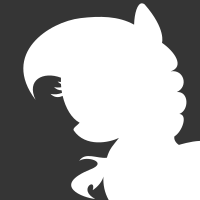 Content Count

89

Joined

Last visited
About Honestly2awesome
Rank

Cupcake

Birthday

1997-06-05
Profile Information
Gender

Male

Location

Mississippi

Interests

Mlp, drawing, singing, Doctor Who, Anime, Psychology, Sociology, Law. That kinda stuff.
My Little Pony: Friendship is Magic
Best Pony

0

Best Anthropomorphic FiM Race
I personally enjoy : One Piece (really good, really long) Hetalia: Axis Powers (Adorable, yaoi in a innocent way, has the personifications of countries, many fangirls. So many) Fullmetal Alchemist(no explanation needed) Death Note ( Again, no explanation) Black Butler (Want sexy demons and evil angels? Creepy Undertakers? Flamboyant Shinagami with chainsaws?Try this. Try it now)

Hello Pinkamena. How have you been dear? And how is Scootaloo?

Lyra: Hellooooo every pony! Lyra here, with my new viewing mirror I received from Princess Luna, to answer all your questions about my new hobbies! Which I seems too have many of now! Go ahead and ask me anything!

THE RPM IS ON AND RUNNING! HURRY UP, CUZ A CHANGING JUST CALLED 'MERICA FAT! *well, sorta* GET IN THIS BEFORE SHIP HAPPENS!

Canada: ...M-maple!Prussia: ...What? Do you mean America when you say fat? *confused* Um....War isn't the best thing...I mean, look at these kickass scars that i got from the wars I've Been in! Hurt like hell though.... Canada: Gilbert...I think we should get away from this...uh...guy.... Prussia: ???

Ooh, I like you already.But I don't ship UsUk. I ship UkUs! *evil French laugh* Anyway, your accepted! Yaoi on my little fangirl~ (...if you are a girl....)

Soldiers, man your stations! Prussia! A-and Canada here! Here to send all our friends on a journey to Ponyville! ooc link: http://mlpforums.com/topic/46151-my-little-hetalia-friendship-is-war/#entry1103113 So, basically, the countries, cities, and states of the world end up in Ponyville! But they're still human. Canada: It's sorta Englands fault... Prussia: Its totally England's fault! Well, good luck, and Yaoi on!

.....So Discord, or should I say...... Q! Dimension hopping must be fun. Btw, i may be in love with you.... But who knows? That is up to fate... To decide ! *overly dramatic*

Scrya was shocked. If it was the old her, ahead would be SQUEEING at at the blood. But now it just made her sick. She kept hold of the card, as the Sun slowly started rising after the long, long night. In the distance she heard Gilbert barking. But what caught her attention was the sound of hooves coming from the same direction. (OOC: Guys, i'm going to be away for few days and i won't have internet. Please don't kill Scrya or anything like that till i come back. Tata my little rpers )

Scrya yelped as the darkness came towards her.She cast another spell, this time sending out a nearly invisible green sheet. She pulled out the card Voyage had giving her, and tried to think of something else. 'Oh Celestia help us....' she thought, staring at the picture of the Sun.

Scrya stared .Harmonic, Shadowheart, and Voyage. "Gilbert.. Stay behind boy..." she said, Gilbert barking and running to the trees. She stared at Harmonic and Shadowheart. "I'm sorry for this..." she whispered. Green magic surrounds her horn, and closing her eyes, it started to take the form of a sphere. Opening her eyes it shot at the two Necromancers, flashing bright green.

Scrya suddenly felt shivers down her spine. Her new pet must have felt it too, for his ears pricked, and he stopped movement completely. "...Something is coming..." she Said to the dog-snake. "Come...Gilbert..We need to go.." she said, going to help Voyage in any way she could. Gilbert barked, running after her.

Yay I have an Icy now! Get ready for Gilbert to prank him hard. Because it will come. When? Who knows. But it will happen! KESESESESESESESESE!!!!!