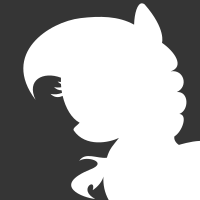 Content Count

6

Joined

Last visited
About Ninonybox
Rank

Muffin

Birthday

1994-03-11
Contact Methods
Skype

ninonybox

deviantART

ninonybox

YouTube

AVGN4life1

Steam ID

STEAM_0:0:31034731
Profile Information
Gender

Not Telling

Location

USA, PA, Schuylkill Haven, 17972

Interests

Video Games, Hunting, Fishing, Swimming, Screwattack, AVGN, RvB, Elfen Lied, Lucky Star, Spice and Wolf, MLP:FIM.
Does this pairing exist? I have scoured the internet in search of it and I keep turning up empty handed. I am fascinated by the pair, more so because I can't find it. So if anyone has come across it by all means make it known, its like a brony scavenger hunt! (I want to see my two fav characters thrown together somehow, buck logic!)

One of the most shocking moments of my life! "Careful Derpy!" omg she called her Derpy! "I just don't know what wen't wrong" OMFGBBQ4U SHE JUST TALKED! XD Biggest one two punch in TV history!

Rainbow Dash is obviously best pony!

I foresee more Derpy, Trixie, and Discord!

Thought I would join up and see what happens.

I made an account just to say im glad im not the only one who thought the two wen't together well.