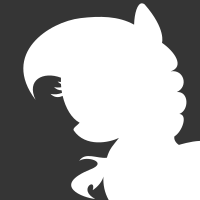 Content Count

316

Joined

Last visited
Profiles
Forums
Character Archive
Frequently Asked Questions and Helpful Hints
Equestrian Empire Character Archive
Pony Roleplay Characters
Calendar
Blogs
Store
Everything posted by Moost
I am the depressing boy feeler. I cut my wrist every night before I go to bed. Please uncle, lay off me. ~ A majority of you.

Give this a few minutes and the mods will banish it to a different dimension.

The one thing I hate about Trixie, is that she is loved by Sethisto (and I really, really hate that guy).

I'm gonna go out of my way and say that THIS IS THE MOST FUCKING WEIRD FETISH EVER.

That's what we will be seeing tomorrow? Ooh, you've got me excited now.

Where did that picture come from? Is that the finale?

Wolfenstien: The New Order and DooM 4.

What happens when it shatters whilst bombing porcelainstan with a 10 pound grogan? You would get glass stuck in your arse.

I just feel sorry for the poor bastards that brought the game.