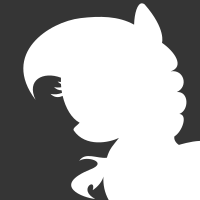 Content Count

950

Joined

Last visited
About 1111
Rank

Kirin

Birthday

1994-08-09
My Little Pony: Friendship is Magic
Best Anthropomorphic FiM Race
I really don't think the devs know what there doing now, but the ponys really do look too much alike, and most likely will be sued fairly even by my book.

So I don't know any thing about trade mark laws and such, i'm would think this game is fine other then the style is almost identical to hasbro, they should really change it. Is there other issues with it?

any one know a good way to find new music?, im a bit picky and bored of what i have all ready

you know those wooden doll things artist use to draw i wonder if they have a online app for that or something

21 years old been waiting for my own room for years my bro doesnt even live here and his junk is still here -_- well f my dreams as usual

game magazines why do people buy them, they never say any thing negitive and make things sound way better then they are.

Not really and considering you only need to have sex once to not be a virgin a no game loner like me can and I have. You can only assume they don't have sex much by looking at some one.