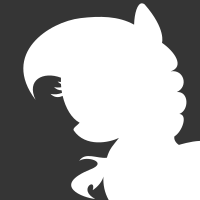 Content Count

6

Joined

Last visited
About Pearl_Circus
Rank

Muffin

Birthday

December 4
Contact Methods
Skype

Just ask

YouTube

Mr.Spyro Gaming (Currently inactive)

Steam ID

Just ask
Profile Information
Gender

Not Telling

Location

Equestria

Personal Motto

Be Prepared

Interests

Gaming, Anime, Writing, and Youtube...
My Little Pony: Friendship is Magic
Best Anthropomorphic FiM Race
I honestly have lost interest in Smosh. I used to love them but as they grew bigger and bigger they also grew more and more superficial. I understand why people would like them but it's just not my thing.

This is kinda fabulous and I mean it Wow Just wow I need this plushie and just everytrhing!!!

AJ is the sexiest most adorable pny in the universe. Some people just don't understand!

I like this OC I like the ideas of not having a cutie mark

I swear after coming on here I'm loving this fandom more and more

I do love you derpy. I do I really do. <3

I love it! It actually kinda made my day as this is my first time on the AJ FanClub forum and I LOVE THE ART

My Favourite Mane 6 Pony: Applejack How did you find MLP Forums?: My bestie reccomended it to me! I've also heard a lot about it! How you became a fan of My Little Pony: Friendship is Magic: Really in the beginning I thought it was a bit odd, but then my friends became bronies and I decided to give it a shot. And here I am a brony. Now I'm still fairly new to the show (I'm on S3) But I'm gonna finish it soon! I'm a bisexual 14 year old wanting to make new friends. I love music gaming anime and of course My Little Pony FiM!