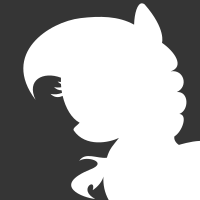 Content Count

54

Joined

Last visited
Profiles
Forums
Character Archive
Frequently Asked Questions and Helpful Hints
Equestrian Empire Character Archive
Pony Roleplay Characters
Calendar
Blogs
Store
Everything posted by StealingShad3Z
In all honesty i will say the brony music community has grown to a level where the music industry should be noticing, it just determines on how we deliver the message. Now this is coming from a brony that puts vocals in his music, so this primarily focuses on that more than instrumentals and remixes I dont directly reference the show in my music (unless its a just for fun song or a cover) so i can expand my audience, instead i "subliminal brony messages" you might say, things a brony would spot that a non brony listener wouldnt. Ive show my music to non brony friends and they're like o

I have some new projects im working on with other brony musicians and ive just had FOE on the brain and since one of the songs is FOE based i just cant get enough of this gritty art design!!! and it definitely screams metal!!!

One good thing about when i do my music is the fact i design my own album artwork.

Bout to reupload a revised version, lyrics needed some touching up

https://www.youtube.com/watch?v=EN0NjP8x5u4 https://stealingshad3z.bandcamp.com/track/wings-do-grow Originally this song was gonna be acoustic song, but it turned into this soft indie-punk sound that i just had to keep adding onto with airy vocals and a highly distorted electric guitar in the background all topped off with heavy reverb to give the song a bit of a ring Part of my EP Equestrian Serenad3Z on Bandcamp

SAY WHAT YALL WANT THIS SONG STILL MADE EquestriaDaily'S MUSIC OF THE DAY!!

well guys you can now own this song for your self https://stealingshad3z.bandcamp.com/track/shes-my-rarity

whats with all the alicorn headers? Larson must be holding the administrators at gunpoint lol

well we cant please everypony, we worked hard on this, and this is our sound, we go, well, Against the Herd.

I watched the mini movie "My Little Dashie" based on the popular fanfic. The story was so heartbreaking and touching that I teamed up with SrightryAmiss and we wrote this!!! This is the second song for our debut albmum!!! https://www.youtube.com/watch?v=XbJuCXgzJNQ https://soundcloud.com/lakejones/15years Since my screamo lyrics or not always the clearest, heres the lyrics: The first day that i saw you My world was coming down The same old life in the same old town I wondered where you came from I've watched you live and grow Cause you were just a filly on the street with no

Guys if you have been watching the news you might know that a matter of hours ago there was a shooting at Delta State University, a professor was killed by another employee. This is my school, we are currently under lockdown. Please pray for our safety as the search continues for the murderer.

https://www.youtube.com/watch?v=7HzazZPPYB4 I dont think i ever posted about this song but its one of my most popular songs with the brony community. Featuring the sweet guitar solos of my friend SlightlyAmiss (now known as SrightryAmiss) this dance tune was inspired by the Season Two premiere

Okay you make a good point on talking about my mixing on this song and i have a good explanation, when i mixed this song i did not possess studio headphones and i was working on Garageband instead of Logic, now that i possess both my music is coming out a lot better, plus since im an Audio Engineering major, ive expanded my knowledge of mixing even further in the past few weeks. Next song is a punk rock song, my vocals are gonna sound a little different since im using a specialsinging technique to reach some high notes in the song, but the music is well mixed so far and ill be recording the vo

https://www.youtube.com/watch?v=iIfKmNhxMMM Even though this song has been on Soundcloud for nearly a month now, i wanted to put a new video up to celebrate the continuation of Season 5

Im starting to question if ill ever get to that babsseed cover with all this original music im writing!! uuuuugh

https://soundcloud.com/lakejones/you-dont-have-to-hide-wip2 Not all the instruments are done, still need to add the bridge and final chorus and then some bass, maybe some lead guitar and piano, and of coarse vocals, but ill be done with this by next Friday since thats when this project is due in my class lol

Okay guys, along with the new OC design, you might have noticed most of my latest projects have been straying away from the techno songs to the more acoustic/punk rock genre. Well i wont say im completely out of the techno genre, but i have been spending more time writing some sweet rock songs for you guys. Heres the deal I had one techno house/punk song i was "gonna" finish. But after listening to the instrumental a couple of times i chunked it. Now on the bright side I have three new songs about to come out, two of which have instrumentals on soundcloud right now. Heres what I'm getting

hahaha im laughing so hard... okay maybe the mic can be on a stand... You wanna talk about a pony that can play any instrument just look at pinkie pie, shes played drums, a an accordion, even a flugle horn And yeah that could be the thing that my OC possesses a special magical ability to bend sound frequencies. but maybe my oc wouldnt need to levitate the guitar, the reason i said that was because itd be kinda weird if my OC could stand and play guitar, i might make an exception at some point but i thought the horn would make rocking out a little easier

https://soundcloud.com/lakejones/youre-always-with-me-instrumental Vocals are currently in progress, that goes the same for two more songs. This is also my first song coming out of Apple Logic. Yes its about Flash and Twilight, sorry Flash haters, Fluttershy is my waifu so Twilight have at it.