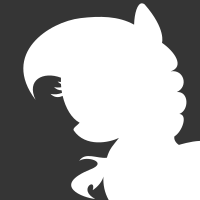 Content Count

29

Joined

Last visited
Profiles
Forums
Character Archive
Frequently Asked Questions and Helpful Hints
Equestrian Empire Character Archive
Pony Roleplay Characters
Calendar
Blogs
Store
Everything posted by Black Viper
I'm ill again Hope you're all well today

It's just such a shame how there's so many great games out there, and it has to get completely spoiled by season passes and DLC crap that means you miss half of the game unless you pay up. Makes me angry!

I felt this way about Star Wars, but after having watched all of them I honestly think they're brilliant (and now I'm almost obsessed XD). Star Trek I haven't watched, but I certainly feel this way about it. Perhaps I will watch them one day. As for Lord of the Rings, I have watched them but I've never gotten into them. I just don't understand any of it. Not really my thing to be honest. But I would soooooo recommend Star Wars to anyone who hasn't watched them yet. I personally love them. My default attitude to any film is "do I have to watch this?" because I'm not really a film person. Bu

Welcome BPCannon! Hope you have a great time here! Wow, I live in South West England as well Hope to see you around the forums!

Don't worry about being as active I'm with you my friend, you can message me any time *hugs*

Hope you are all well and good today

Hello all. Hope you're having a great day.

How are we all today?

I've not been here for very long at all, but this is the most awesome place on the internet. Everypony is so genuinely kind and have been so welcoming when I joined this site. I've made some great friends as well, and I just love associating with all of you. I'm not leaving here any time soon, and it's all of you that make this place so amazing. Thank you all

You guys are all the best Just felt like saying that

Hooray, I have just established that I cannot get ANYTHING right.

Good afternoon all, I hope you're all having an awesome day!

I agree and disagree with that at the same time. In some cases it's good, but people mistaking my mum for my wife is not something I enjoy

Right! Time to write a law essay! Yayyyyyyyyyyyy I wish I was dead.

Yes!! I'm a 16 year old male but almost everyone thinks I'm at least 5 years older. I don't really like it, but ah well.

How are my fellow ponies? I don't feel a huge amount better but I'm trying to stay positive

My mood has literally gone from good to bad in the space of under a minute. I cannot even explain why.

I'm not on season 5 yet so I didn't watch the entire episode today. But I did watch the beginning to see if BronyTV was functioning properly, and it really wasn't. Is anypony having any problems with it as well? Are there any alternatives to it?