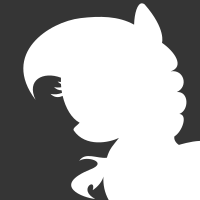 Content Count

35

Joined

Last visited
About Novaburst
Rank

Muffin

Birthday
My Little Pony: Friendship is Magic
Best Anthropomorphic FiM Race

Unicorn
Granted but as you are subject to Cartoon Physics, someone turns off the TV and you die. I wish Chromebooks wouldn't crash.

Granted you get food poisoning though. I wish that I hadn't gotten sick with a sore throat, and painful coughing and that no other ailments could befall me for the next month. (Seriously.)

I dunno much about Google Doc to be honest hehe. As to Radiance. here is a short and more complete bio for her.

 

 

 

Name: Radiance of the Dawn, or just Radiance, or Dawn for short.

Species: Unicorn.

Cutie Mark: None

Gender: Young Filly

Age: Mentally and Physically 7, Chronologically 1010

Appearance: Radiance is a Unicorn with a white coat, and silver mane with pink streak going down its middle. (tail is in same colors) She also has a blue (left)...