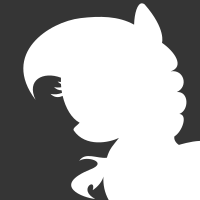 Content Count

657

Joined

Last visited
About EmeraldStar04
Rank

Phoenix

Birthday
Profile Information
Location

The World

Personal Motto

「ZA WARUDO!」

Interests

MUDA MUDA
I thought she was faaster.

I'm kinda anxious. I don't want the show to STOP (no real brony would) but... I really want the show to stop sucking. The new season 6 writers are really bad at writing.

What a perfect thing to call Starlight! Writer's pet. That's what she is. Some writer's pet. I want an episode where the wonderbolts don't suck and aren't jerks.

If anything, it's a good anti-illuminati song. And the illuminati are REAL. If you think otherwise, explain... *DRAMATIC CLOSEUP* Pizza

I agree! They really would cute couple.

Starlight flexed her character in the episodes where she was an evil monster that deserves Tartarus more than tirek. Since then, the writer's ides of damage control has been "Pair her up with Trixie and make her super special and have her save the day in a garbage finale, they'll love her after that".

You... make points. I hated Flash and thought he was a trashy character until today.

HECK YEAH! Either they get married when he gets older or he marries Ember.

The show and movie will bring the fandom back to life, our Askapony blogs will blot out the sun AND be loved by the fandom, and our fanfics will party in the shade! We will retake tumblr! SOL VULT SOL VULT SOL VULT SOL VULT SOL VULT

2 episode predictions per person I predict: A Pinkie+Applejack episode where they settle "Is she related or not?" once and for all And an episode where the best writer, M.A. Larson, does his best to redeem Starlight Glimmer PROPERLY in the eyes of her haters. If he or any other writers don't try this, they'll shove her into the background like when the stupid magic dog from FOP disappeared once the writers realized the shark-jumping garbage character wasn't working(AND REPLACED HIM WITH ANOTHER SHARK-JUMPING GARBAGE CHARACTER)

Season 6 was so bad that some bronies ran out of HP and vanished from the timeline. I hope they come back to life to watch season 7

I NEED SEASON 7 SO MUCH JOJO PART 4 IS ALMOST OVER PART 5 IS COMING OUT... eventually... NOT SOON ENOUGH!

You know, OC Submissions are still open for my MLP fighting game with a roster full of OCs.