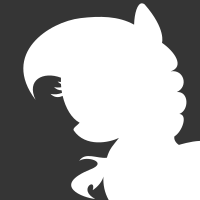 Content count

54

Joined

Last visited
Community Reputation
108
Brohoofs
About Cestrum
Rank

Cupcake

Birthday
My Little Pony: Friendship is Magic
MLP Forums
Opt-in to site ads?

No

Favorite Forum Section
Why yes I am! Feel free to PM me with the details or questions and I can give you a price estimate.

Bump bump, sugar rump~! Hey everyone, posted some new art examples and re-organized the art in the spoilers. Now they're in 2 neat groups. MLP and Non-MLP! Commissions are still open (and now with lower prices), so be sure to check them out!

Kittens, at least they can be trained to use a litter box. Would you rather go into space, or scuba diving?

Hey guys, check out the commission I recently finished. You can also see it in the top post!

I'd rather have stuffed toys, less maintenance and money spent on food and things. Would you have have super strength or super speed?

I definitely plan to open up requests over my Christmas break (December), since I'll have 3 weeks off of school. Thank you so much for the compliments, and just hang in there a little longer

Here's a flat color commission I completed for @Dark Horse

Back with more Night In The Woods artwork! Here's a few OCs I was commissioned to draw And here's some of my normal Anthro work. An Art trade I recently completed~

Hey there guys! Just sharing an MLP fan project to try and help fill more casting spots. We need MALE and FEMALE voices of all kinds, please note that all most of the characters have some sort of singing part. There are various Canon Characters in this project that still need voices, come check it out! Find all the info in this Youtube video, I'll also include a link to the casting call roles. Family Is Everything - Casting Call! Casting Call Roles

Night In The Woods Fanart! First is Beatrice Santello (coolest croc) and next is my fursona Krissy (a Jackal) in NITW style~ :3

Another horse drawing, this was an Art Trade on DeviantArt. Made in a more personal style, loved how the anatomy came out :3 Not too happy with the blending tools of Fire Alpaca. Might experiment with Paint Tool SAI again or Clip Studio Paint in the future Also made some Fanart for ToonCritic from YouTube. Tried doing a playing card style headshot. What do you think~? :3 This one was in my "MLP Show Style"

@Dark Horse Excellent! I'll get sketching that out, should be done in about 3-5 days (College Midterms are happening) I'll PM you the sketch for approval, then contact Lady Kiriness about the order.

@Dark Horse Alright, for the EQG Chibi with the Keyblade (complex weapon), and the addition of your full-body pony OC the price comes out to $20 even. Is that fair? Also, would you like a white or transparent BG? Free of charge either way, just curious which you'd prefer :3

"Bump Bump, Sugar Rump!" I now have an example of my show style for ponies! Check out the spoiler below, also featured in the top post!

Finally drew another horse, this time in show style!