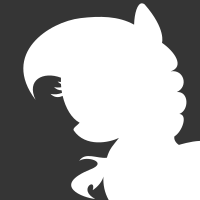 Content count

1

Joined

Last visited
Community Reputation
17
Brohoofs
About Solar Bolt
Rank

Blank Flank

Birthday

01/08/1986
My Little Pony: Friendship is Magic
Best Pony

Rainbow Dash

Best Pony Race

Pegasus
Profile Information
Gender

Not Telling

Location

Ponyville

Personal Motto

There 's always adventure and action everywhere we go everypony.

Interests

To meet my idols the Wonderbolts and fly with them someday.
MLP Forums
Opt-in to site ads?

No

Favorite Forum Section

Welcoming Plaza
Contact Methods
Fimfiction

https://www.fimfiction.net/user/SolarBolt
How do I post in the forum thread or any Rp forum threads such as the one for A Casual Stroll? Or do I have to do a Rp thread that's open to start a conversation in with those bubble things? Help me out here please somepony.

Thanks Lezal me too also I just recently posted a status about something.

Thanks Wolfie glad to be here.

Alright then I'll give it a try.

Thanks Dreambiscuit and I hope so too though I'm not sure how to approach any of the forums including Rp ones care to lend a hoof in helping me?

Hi everypony names Solar Bolt and I'm hoping to make a lot of friends here.