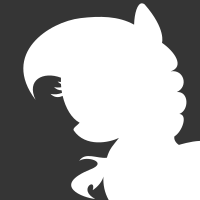 Content count

203

Joined

Last visited

Days Won

1
Community Reputation
8747
Brohoofs
About Captain Clark
Rank

Butterfly

Birthday
My Little Pony: Friendship is Magic
MLP Forums
Opt-in to site ads?

No

Favorite Forum Section
Pineapple on pizza is evil. 

Well, certainly not in the universe I live in. 

I do admit pineapple doesn't really fit well on pizza, but at least it is edible. When I tried anchovies or whatever that was (I honestly don't remember it was ages ago; but it was some sea food for sure), it literally murdered (overlapped) the whole taste of pizza. The only thing I felt was that nasty strong taste and the pizza itself became irrelevant. It was a true nightmare I'd never expect from a pizza. Probably that depends on region and personal taste, but holy balls science went to far with that one and I was not the only one doing  to that and throwing that topping to trash can. And even then you could feel the taste of that...

And don't get me wrong - I'm not a super fan of pineapple pizza and don't order it normally, but I do wonder why is it hated so much. I get the consistence doesn't look really well and sweet taste may be out of place, but if that is a meme of some sort, why anchovies (or whatever that was) aren't? In my opinion the slimy thing I ate was a true nuclear waste; a terrible mix, infinitely worse than pineapples.
Also just by googling anchovies pizza---

--- I'm sure I wouldn't touch it. Speaking of consistence and looks - how in Equestria does that look good?  I'm not even going to comment what it makes me think of. 

From my experience - pineapple pizza is a heaven compared to that terrible experiment performed on pizza. Whenever I see seafood section in menu with pizzas, I'm like .
But as I mentioned above, that probably depends on region and personal taste, so I do respect your opinion. We all like different things. It's just that I'm honestly wondering what exactly is wrong with pineapple pizza and why it is #1 hated pizza of all time, when obviously there are worse choices, from my perspective at least.

@Rikifive Yeah you definitely make a good point there. Anchovies definitely have a pretty strong taste. That usually results in maybe not enough taste for the rest of the pizza. XD

Other than anchovies though, I completely agree with you on seafood on pizza. It's pretty gross. I don't even like seafood on its own. XD

Yes, exactly, that didn't work well for me. The taste and looks ... eh.. That was a trap!  I don't like seafood in general either, so yeah.  Actually some things are somewhat edible, but that thing on pizza I ate (well tried to) back then --- oh it's definitely not on the list. Science was done, mistakes were made, I'll never order any pizza from the seafood category.  I would prefer to eat pineapple pizza every single day than having to eat that sea madness just once. 

I pretty much only listen to 60s and 70s music. Best decades by far in my opinion.

Captain Clark replied to StrawCherry's topic in Ask a Pony

So. How close are you to Pinkie Pie? You two have lots in common. I imagine you're pretty good friends.

Hmm. You know what? That sounds interesting. I might consider joining in as well!

I have never seen the film. I take it you didn't find it very good?

I use my iPod for all my music. I have literally hundreds of CDs. Together they have pretty much every song I could ever want. So if I want to listen to an album or song, I can just put it into my computer and it's there for me to listen to anytime.

I'm doing alright today. Thanks for asking!

Hello everyone! I hope you're all doing well.