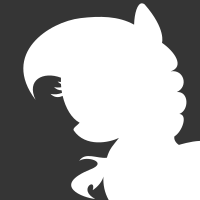 Atlas DirtMunch
Blank Flanks
Content Count

1

Joined

Last visited
Recent Profile Visitors
The recent visitors block is disabled and is not being shown to other users.
About Atlas DirtMunch
Rank

Blank Flank

Birthday
Profile Information
Gender

Male

Location

PotatoLand, FreedomCity

Personal Motto

Whatchu lookin at foo, I'm da best

Interests

slapping fools
My Little Pony: Friendship is Magic
Best Anthropomorphic FiM Race
I don't know look at my dashing face

How do you think the mane 6 would deal with later villains in the Earlier seasons. have it laid out like, *Villain: *season: *Motive changes (If there are no changes to their motives... make something up have fun): *The Mane six's personality then compared to when they first faced them: *Abilities of the mane six then compared to when they faced them (this really only applies in a select area(wink wink nudge nudge)): *Your opinion on how the show would have progressed from there: and remember have fun (as if that isn't the most over used line in history).