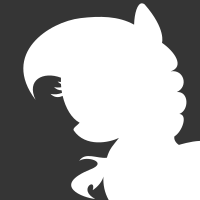 IndigoBright
Blank Flanks
Content Count

2

Joined

Last visited
Out of the mane 6 Rarity if my favorite! ·͙⁺˚*•̩̩͙✩•̩̩͙*˚⁺‧͙⁺˚*•̩̩͙✩•̩̩͙*˚⁺‧͙⁺˚*•̩̩͙✩•̩̩͙*˚⁺‧͙

I love Starlight so much! ♡♡ I have never tried to take over a town or anything but I connect with her so strongly. She is the fictional character I have most empathized with in a very long time and I only want good things for her because of it. I have a theory about Starlight's magic~ So there has been stated to be some kind of difference between normal unicorn magic and ailcorn magic right? So when Twi became an alicorn the blanace of magic was skewed. It had to go some where. That's also why babeh princess is so naturally inclined. That's all I got

Thank you P I X E L Thank you Seren <3 Thank you so much <3

I would have the fanciest legs around!

Hi there every pony! My name is IndigoBright. I am a returning fan from many moons ago. I first got into MLP as seasons 1-3 were airing then lost interest for a LONG while. Just recently I was sat down with some new friends and watched all the rest of it (basically in 1 sitting). I had missed so much! So glad I'm back now~~ I reside in Atlanta Georgia USA, have lived for 27 years and I believe when people look at me they see a female :3c I found my way onto Second Life's Saddlewood community and within a month of starting SL was asked to join the events staff there. In real life help

They are good for a quick run of fun and make great stories afterwards, but I find that the best matches are made when you aren't really looking for them. What's some non-physical traits you look for in a partner?

Dress up and carve pumpkins!~ What's your favorite fast food?