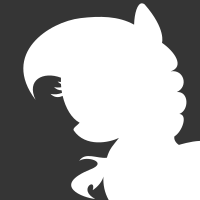 Content count

7

Joined

Last visited
Everything posted by core578
I'm going to be posting art here, asking for criticism and ideas! Might draw requests, but I'm not that good :/ Deviant Art: https://www.deviantart.com/flutter20 Ponies in my Head

Design of my oc/ponysona. Pegasus that's part gypsy horse hair styles: messy bun, less messy bun, hair down

core578 replied to Moost's topic in Fan Clubs

Its been a little while since i got it, but here's a commission i got from Tsitra360

Had an uneventful day, but drew some mlp and watching youtube keeps me busy. Loathing school tomorrow though.

Quick sketch of derpy on my hand.