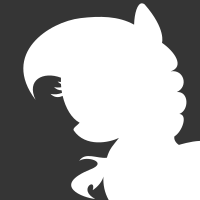 Content Count

5

Joined

Last visited
About starinferno
Rank

Muffin

Birthday

1990-07-10
My Little Pony: Friendship is Magic
Best Pony

Autumn Blaze

Best Anthropomorphic FiM Race

Pegasus

Best Mane Character

All of them

Best CMC

All of them

Best Secondary/Recurring Character

Cheerilee

Best Episode

The season 2 two parter

Best Song

The Kirin song because Rachel bloom is awesome

Best Season

4
I like them all because they are all unique and interesting in their own way.

I couldn't get into EQG the designs made me uncomfortable and I am not a fan of high school drama.

Thanks for the welcome you guys!

Hi I am new here I don't have much to say but I hope I make friends here.